Main content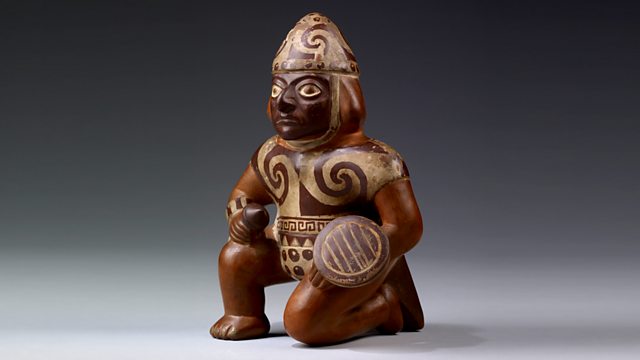 Moche Warrior Pot
Director of the British Museum Neil MacGregor examines a pottery warrior figure from a forgotten people in Peru.
The history of the world as told through one hundred objects arrives in 7th Century Peru. Throughout this week Neil MacGregor is exploring along the Silk Road and beyond, ranging from Korea to East Anglia. But what was life and culture like in South America during the same period that Islam was transforming the Middle East?
In today's programme, Neil introduces us to a remarkable lost civilisation from present day Peru. He explores the story of the Moche people through a pot in the shape of a warrior, with help from expert Steve Bourget and the potter Grayson Perry.
Producer: Anthony Denselow.
Last on
About this object
Location: Peru
Culture: Incas and South America
Period: AD 100-700
Material: Ceramic and Paint
This pot was made in Peru by the Moche. It shows a kneeling Moche warrior holding a club in one hand and a shield in the other. Warfare, warriors and prisoners are a recurring theme in Moche art. They testify to the violent, inter-valley rivalries that frequently occurred over agricultural land. Skeletal evidence reveals injuries sustained by blows from clubs as part of active war service. The pots themselves seem to have served as symbolic tomb guardians, as they are frequently found in high-status burials

Who were the Moche?

The Moche were one of the first South American cultures to develop a state structure. Peru's coastline provided them with a rich and nutritious diet that was able to support a dense population. The Moche were skilled builders, constructing irrigation canals, pyramids and palaces. They also mass-produced hundreds of pots, like this one, depicting the different ranks of Moche society. The Moche kingdom came to an end as a result of climatic changes and drought.

Did you know?
In 1997 skeletons of five Moche men were found, all over six feet tall. A foot taller than the Moche average, they were named Moche giants.
Finding the future in the past
By Steve Bourget, Department of Art and Art History, University of Texas at Austin
The first time I visited the work of del Luna – and the work of del la Sol – was in 1978, and back then the work of del Luna was a mound, eroded mud bricks, and in the middle of that you had thousands of potholes and indeed people were still looting by day at the site trying to find the tombs and extracting the parts they could sell and so forth to tourists.

Now, today, the work of del Luna has changed completely; you see part of the city, the work of del Luna is open to tourism, and there are numerous, gorgeous murals inside the building. When you get there, there is a new museum being built at the foot of the temple itself. People are still excavating there and will be excavating probably after we are long gone and your children as well probably – for another 100 years at least.

I think one of the fascinating things I am looking at when I look at Peru today is that they are in fact in the process of doing what also happened in Mexico, perhaps in Egypt, and eventually I would believe China, where these countries that have a great ancient past build their identity through this past and it becomes part of their present.

So the past of Peru will be its future, and eventually the Moche will become a name just as much as the Maya or the Inca or the Aztec for that matter. Eventually it will become part of the world legacy. I think this is a great thing and the work of del Luna is part of this process
Discovering the Moche
By Steve Bourget, Department of Art and Art History, University of Texas at Austin
We excavated this sacrificial site which included about 75 male warriors sacrificed during various rituals, and we also found the tombs of two 'sacrificers'. One of the tombs also included a wooden club covered with human blood. So we had indeed the smoking gun and also the victims themselves side by side within the temples – so it was a great discovery.

The ceramic of the British Museum that portrays a magnificent warrior dates from around 500 – 550 years AD and represents one of these ritual warriors: in the pose of a warrior with a conical helmet, with a shield around its arm and all that so he is literally prepared to enter into this duel which eventually led to the defeat of one of these warriors, and this warrior is eventually sacrificed within the temple.

The information that we have retrieved from the site is impressive: first we found that these were male warriors aged between 18 to more or less 39 years of age. They had a lot of ancient injuries consistent with battles but they also had a lot of fresh injuries consistent with having fought and perhaps lost their last encounter.

And then we have a plethora of sacrificial acts on the human remains themselves - on the bones - a lot of cut marks on the throats, on the arms and on the faces indicating that most of them have had their throat cut with a special knife, a kind of mys-spheric blade made of copper. A few of them had the skin of their face removed, arms separated from their bodies and some of them were de-fleshed completely and transformed into skeletons – even in one case in one part of the work of del Luna one of my colleagues discovered two human heads transformed into some kind of container.
Broadcasts

Featured in...
A History of the World in 100 Objects - objects related to war.
Podcast
Director of the British Museum, Neil MacGregor, retells humanity's history through objects