Main content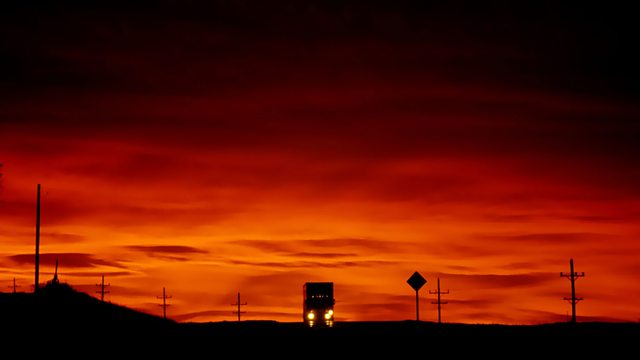 03/06/2010
Susan Sharpe with music by Ravel, Castellanos, Montsalvatge, Berlioz, Bernstein, Tubin, Haydn, Larsson, Weckmann, Liszt, Marson, Handel, Geminiani, Lechner, Saint Saens, CPE Bach.
Susan Sharpe presents rarities, archive and concert recordings from Europe's leading broadcasters
1:01 AM
Ravel, Maurice (1875-1937)
Daphnis et Chloe - suite no. 2
Radio France Philharmonic Orchestra, Gustavo Dudamel (conductor)
1:18 AM
Castellanos, Evencio (1915-1984)
Santa Cruz de Pacairigua
Simon Bolivar Youth Orchestra of Venezuela, Gustavo Dudamel (conductor)
1:34 AM
Montsalvatge, Xavier (1912-2002)
Concierto Breve
Angela Cheng (piano), Calgary Philharmonic Orchestra, Hans Graf (conductor)
1:58 AM
Berlioz, Hector (1803-1869)
Symphonie Fantastique (Op. 14)
Simon Bolivar Youth Orchestra of Venezuela, Gustavo Dudamel (conductor)
2:57 AM
Bernstein, Leonard (1918-1990)
Mambo (West Side Story)
Simon Bolivar Youth Orchestra of Venezuela, Gustavo Dudamel (conductor)
3:01 AM
Bach, Johann Sebastian (1685-1750)
Orchestral Suite No.1 in C major, BWV1066
Norwegian Chamber Orchestra
3:21 AM
Tubin, Eduard (1905-1982)
Sonata for violin and piano in the Phrygian Mode
Ulrika Kristian (violin), Marje Lohuaru (piano)
3:42 AM
Haydn, Joseph (1732-1809)
Quartet for strings in D major (Op.64 No.5) 'Lark'
Tilev String Quartet
4:00 AM
Larsson, Lars-Erik (1908-1986)
Pastoral Suite (Op.19) (1938)
CBC Vancouver Orchestra, Mario Bernardi (conductor)
4:14 AM
Weckmann, Matthias (1616-1674)
Wenn der Herr die Gefangenen zu Zion erlosen wird - Concert for 4 voices, strings & continuo
Soloists from Rheinsche Kantorei, Musica Alta Ripa, Hermann Max (conductor)
4:24 AM
Liszt, Franz (1811-1886)
Hungarian Rhapsody No.2 (S.244 No.2) in C-sharp minor
Jenö Jandó (piano)
4:35 AM
Marson, John (1932-2007)
Waltzes and Promenades for 2 harps
Julia Shaw and Nora Bumanis (harps)
4:48 AM
Handel, Georg Frideric (1685-1759)
3 Airs from Vauxhall Gardens, arranged by Steele-Perkins for trumpet and orchestra
Crispian Steele-Perkins (trumpet), The King's Consort, Robert King (director)
5:01 AM
Geminiani, Francesco (1687-1762)
Sonata in D major, (Op.1 No.1)
Pierre Pitzl and Mary Jean Bolli (violas da gamba), Luciano Contini (archlute), Augusta Campagne (harpsichord)
5:11 AM
Lechner, Leonhardt (c.1553-1606)
Deutsche Sprüche von Leben und Tod
Danish National Radio Choir, Stefan Parkman (conductor)
5:21 AM
Saint-Saens, Camille (1835-1921)
Morceau de Concert for harp & orchestra in G major, Op 154
Suzanna Klintcharova (harp), Sofia Philharmonic Orchestra, conductor Dimitar Manolov
5:36 AM
Enna, August (1859-1939)
Skitsebogen (Sketch Book)
Ida Cernecka (piano)
5:52 AM
Vaughan Williams, Ralph (1872-1958)
The Wasps - Overture from the Incidental Music
BBC Philharmonic, Yan Pascal Tortelier (conductor)
6:01 AM
Boccherini, Luigi (1743-1805)
Quintet for 2 violins, viola and 2 cellos No.2 (G.266) (Op.10 No.2) in E flat major (Op.12 No.2)
Andreia Potroshko (double bass), Zagreb String Quartet
6:21 AM
Kraus, Joseph Martin (1756-1792)
Symphony in C minor
Concerto Köln
6:42 AM
Bach, Carl Philipp Emanuel (1714-1788)
Sonata for violin and harpsichord in B minor (H.512)
Les Adieux: Mary Utiger (violin), Andreas Staier (harpsichord).