Main content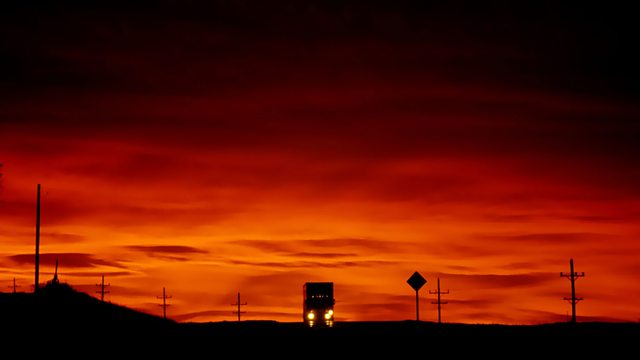 30/05/2010
Susan Sharpe with music by Vignery, Clara Schumann, A Scarlatti, Schubert, Mozart, Prokofiev, Rossini, Brahms, Salzedo, Strauss, Vivaldi, Chopin, Debussy, Bach, Smetana.
Susan Sharpe presents rarities, archive and concert recordings from Europe's leading broadcasters
1:01 AM
Vignery, Jane (1913-1974)
Sonata for Horn & Piano (Op. 7)
Renate Hupka (horn), Lora Tchekoratova (piano)
1:19 AM
Schumann, Clara (1819-1896)
Trio for piano and strings (Op. 17) in G minor
Trio George Sand
1:48 AM
Scarlatti, Alessandro (1660-1725)
Stabat Mater (1724)
Valeri Popova (soprano), Penka Dilova (mezzo-soprano), Tolbuhin Children's Chorus, Bulgarian National Radio Sinfonietta, Dragomir Nenov (conductor)
2:29 AM
Schubert, Franz (1797-1828)
Rosamunde - incidental music (D.797)
Finnish Radio Symphony Orchestra, Jukka-Pekka Saraste (conductor)
3:01 AM
Mozart, Wolfgang Amadeus (1756-1791)
Concerto for piano and orchestra no.17 (K.453) in G major
Leif Ove Andsnes (piano), Norwegian Chamber Orchestra, Terje Tønnesen (conductor)
3:31 AM
Prokofiev, Sergey (1891-1953)
Violin Sonata No 1 in F minor, Op 80
Georgi Badev (violin), Nikolay Evrov (piano)
4:01 AM
Rossini, Gioachino (1792-1868)
La Gazza Ladra - Overture
Danish Radio Concert Orchestra, Roman Zeilinger (conductor)
4:11 AM
Matteis, Nicola (d.c.1707) & Anon (17th century)
Matteis: Passages in Imitation of the Trumpet (Ayres & Pieces IV (1685))
Anon: 5 Marches from John Playford's new tunes
Pedro Memelsdorff (recorder), Andreas Staier (harpsichord)
4:21 AM
Brahms, Johannes (1833-1897)
Fest- und Gedenksprüche for 8 voices (2 choirs) (Op.109)
Danish National Radio Choir, Stefan Parkman (conductor)
4:31 AM
Salzedo, Carlos (1885-1961)
Variations sur un thème dans le style ancien (Op.30)
Mojca Zlobko (harp)
4:42 AM
Strauss, Richard (1864-1949)
Andante - from Fünf Klavierstücke (Op.3 No.1)
Ludmil Angelov (piano)
4:48 AM
Vivaldi, Antonio (1678-1741)
Concerto for 2 violins, 2 cellos & orchestra (RV.564) in D major
Europa Galante, Fabio Biondi (violin/director)
5:01 AM
Sorkocevic, Luka (1734-1789) arranged by Frano Matusic
Symphony No.3 in D major
Dubrovnik Guitar Trio
5:08 AM
Ockeghem, Johannes (c.1410-1497)
Intemerata Dei mater
The Hilliard Ensemble, Paul Hillier (bass/director)
5:17 AM
Chopin, Frédéric (1810-1849)
Rondo in C major, Op.7
Ludmil Angelov (piano)
5:26 AM
Larsson, Lars-Erik (1908-1986)
Pastoral Suite (Op.19)
CBC Vancouver Orchestra, Mario Bernardi (conductor)
5:40 AM
Debussy, Claude (1862-1918)
Estampes for piano
Roger Woodward (piano)
5:55 AM
Schubert, Franz (1797-1828)
Rondo in A major for Violin and Strings (D.438)
Pinchas Zuckerman (violin/director), The National Arts Centre Orchestra of Canada
6:10 AM
Bach, Johann Sebastian (1685-1750)
Jesu, meine Freude - motet (BWV.227)
Orchestra and Choir of Latvian Radio, Aivars Kalejas (organ), Sigvards Klava (conductor)
6:31 AM
Smetana, Bedrich (1824-1884)
Piano Trio in G minor (Op.15)
Suk Trio.