Main content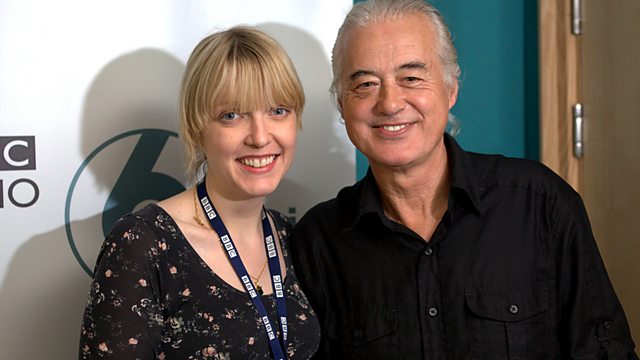 The one where Jimmy Page talks John Bonham
Lauren is joined by Led Zeppelin's Jimmy Page to talk about a new John Bonham documentary, plus Avi Buffalo drop by for a live session in the 6 Music studios.
Lauren is joined by Led Zep legend Jimmy Page who was in to talk about a brand new John Bonham documentary that airs on 6 Music next Monday.
Plus Avi Buffalo drop by for a live session in the 6Music studios. The Californian band are made up of singer Avi Zahner-Isenberg, Rebecca Coleman, Arin Fazio and Sheridan Riley and their eponymous debut album is released this month.
Last on
Music and featured items
Jimmy Page

Led Zeppelin legend Jimmy Page joins Lauren to talk about upcoming documentary The John Bonham Story, which airs this Monday on 6 Music.

Duration: 08:45

Avi Buffalo live in session

Avi Buffalo join Lauren in the 6 Music studio for a live session with tracks What's In It For? and Truth Sets In.

Duration: 12:30

The Smiths

This Charming Man

The Sound Of The Smiths.
Rhino.
2.

Ian & Sylvia

You Were On My Mind

Eddie Floyd

Knock On Wood

The Smashing Pumpkins

Siva

The Drums

Forever And Ever Amen

CD SINGLE.
Moshi Moshi / Island.
1.

Lucas Renney

she gives me the chills

Ladyhawke

My Delirium

CD SINGLE.
MODULAR / ISLAND.
1.

Massive Attack

Girl I Love You

The Shins

Phantom Limb

**STUDIO/LOCATION RECORDING**.

Justice

vs

Simian

We Are Your Friends

Led Zeppelin

Good Times Bad Times

Slow Club

Giving Up On Love

CD SINGLE.
MOSHI MOSHI.
1.

Avi Buffalo

What's In It For?

Avi Buffalo

Truth Sets In

Jonathan Richman & The Modern Lovers

Roadrunner (Twice)

Crystal Castles

Celestica

Modest Mouse

The World At Large

British Sea Power

Please Stand Up

The Chemical Brothers

Swoon

Villagers

Set The Tigers Free

Nuyorican Soul

I Am The Black Gold of the Sun

Mercury Records Ltd. (LONDON).

Goldheart Assembly

Under The Waterway

CD SINGLE.
FIERCE PANDA.
1.
Broadcast