Main content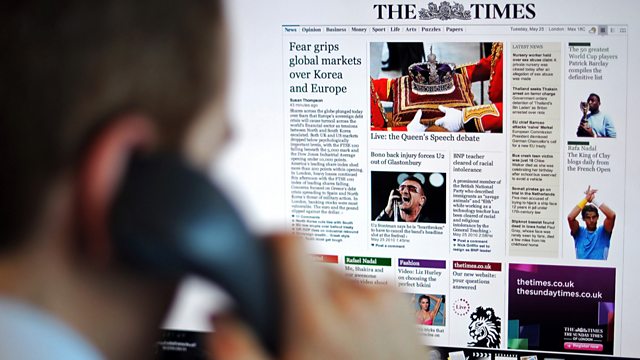 26/05/2010
Does the new Times website live up to the hype; why the MMR story ran and ran for so long; the BBC World Service is responding to reports of cuts.
Last week we discussed the new Times and Sunday Times websites. With their launch this week, media commentator Dan Sabbagh takes a look. Are they as good as they need to be? And later in the programme, Daniel Finkelstein responds to the early reviews - he is leading the paywall project at The Times.
The General Medical Council struck Andrew Wakefield off the medical register on Monday, for misconduct in relation to his MMR research. We look back to the late 1990s with two health writers who covered the original story and watched it develop in different ways - Jeremy Laurance at the Independent and Jacqui Thornton at the Telegraph papers and then the Sun. Did the media really get the coverage wrong?
And Peter Horrocks is the BBC Global News director, responsible for the BBC World Service. How does he respond to reports of budget cuts of up to 25 per cent?
Last on
Broadcast