Main content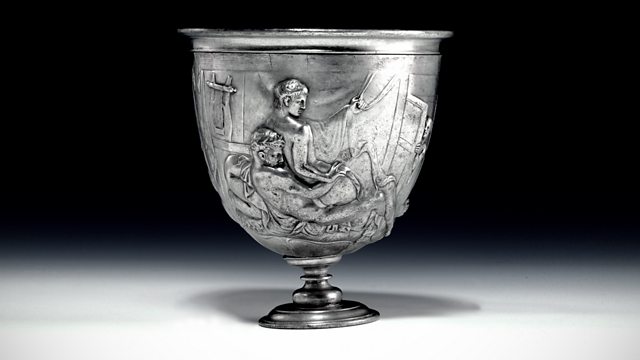 Warren Cup
Neil MacGregor tells the story of a silver cup that offers frank insight into the place of homosexuality in ancient Rome.
Throughout this week Neil MacGregor, the director of the British Museum in London, is exploring the ways in which people were seeking pleasure around the world 2000 years ago, from pipe smoking in North America to court etiquette in China. He starts with the Roman Empire and a silver cup that offers a rare glimpse into the world of sex in ancient Rome. The cup features such explicit images of homosexual acts that it was once banned from America and museums refused to buy it. The Warren Cup is now one of the British Museum's better known objects. In today's programme Neil examines the sexual climate of Rome. Just how was sexuality viewed at this time, and why were the Romans so keen to copy the Greeks? The historians Bettany Hughes and James Davidson help provide the answers.
Producer: Anthony Denselow.
Last on

More episodes
Previous
You are at the first episode
More programmes from A History of the World in 100 Objects about sport and entertainment
About this object
Location: Bittir, near Jerusalem
Culture: Ancient Rome
Period: AD 5 - 15
Material: Silver
This luxurious silver cup was used at Roman dinner parties. The cup originally had two handles and depicts two pairs of male lovers. One side shows two teenage boys making love, while the other shows a young man lowering himself onto the lap of his elder, bearded lover. A slave-boy peers in voyeuristically from behind a door. The luxurious fabrics and musical instruments indicate that these scenes are set in a world heavily influenced by Greek culture, which the Romans admired and largely adopted.

What was the Roman attitude to relationships between men?

Images like this were not unusual in the Roman world. Some of the boys on this cup are underage by today's standards, but the Romans tolerated relationships between older and younger men. Relationships between men were part of Greek and Roman culture, from slaves to emperors, most famously the emperor Hadrian and his Greek lover, Antinous. Today such ancient images remind us that the way societies view sexuality is never fixed.

Did you know?
Due to it its explicit imagery, the cup was refused entry to the USA in 1953.
Life, love, luxury – in one cup
By Paul Roberts, curator, British Museum
This Roman silver cup is a fascinating and very versatile object, combining drinking, money and sex all in one!

To the Romans it was a drinking cup to be used not just admired. Picture a dinner party, course after course of exotic food and lots of fine wine. The guests talk about politics and love as they pass round the table this luxurious, tactile silver cup. Their host is delighted that they admire its decoration (and its value).

As a work of art it's a masterpiece – its fine decoration achieved by beating the silver into shape from the inside using fine hammers and chisels. Luxuriant fabrics and musical instruments indicate a world heavily influenced by Greek culture, which the Romans admired and adopted.

So what is so special about the decoration that made it one of the British Museum's highest-profile and most controversial acquisitions? What kept the piece out of permanent museum collections until 1999, and ensured that its purchase by the British Museum earned it a place in all the British media?

Sex.

One side of the cup shows two teenage males, while the other shows two older men, all of them caught in the act of making love. The older men are watched by a peeping-tom, a young slave who spies on them from behind the door.

Were the dinner party guests offended by this? Probably not at all. Scenes of love-making were everywhere in Roman art. The cup is unique today, but in Roman times there were many others. Same sex relationships? Love and sex between men, often of differing ages, was part of Greek and Roman culture. One of the boys looks underage to us, but he was of marrying age to the Romans.

So this little cup embraces the Romans' love of banqueting, their passion for conspicuous shows of wealth, their love of beautiful things and their skill in creating them. It also allows a glimpse into the private life of the Romans, challenging our traditional view of how they lived and loved.

Today some people take the cup out of its Roman context and see it as a symbol, either of sexual liberation, an affirmation of gay identity and proof of this identity through time, or of ancient decadence and a cautionary lesson in modern liberalism.

And here is the real beauty of the piece. It makes you think, and what better tribute could there be for an object from the past than to stimulate and provoke debate in the present?

Broadcasts

Featured in...
A History of the World in 100 Objects - objects relating to sport and entertainment.

A History of the World in 100 objects - Food and farming
Podcast
Director of the British Museum, Neil MacGregor, retells humanity's history through objects