Main content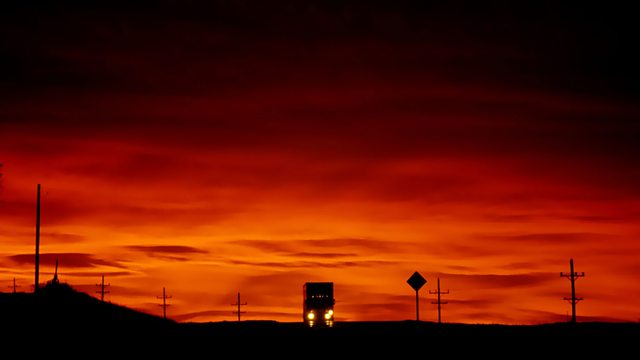 12/05/2010
John Shea presents music by Beethoven, Mahler, Sjogren, Prokofiev, Handel, Cavalli, Grieg, Schubert, Kurpinski, JM Haydn, Saint Saens, Liszt, Karlowicz, Schlegel, Debussy, Ivanovs.
John Shea presents rarities, archive and concert recordings from Europe's leading broadcasters
01:01AM
Beethoven, Ludwig van (1770-1827)
Symphony No. 1 in C Major (Op. 21)
BBC Scottish Symphony Orchestra, Donald Runnicles (conductor)
01:27AM
Mahler, Gustav (1860-1911)
Das Lied von der Erde
Karen Cargill (mezzo-soprano), Johan Botha (tenor), BBC Scottish Symphony Orchestra, Donald Runnicles (conductor)
02:36AM
Grainger, Percy (1882-1961), arr. for orchestra by Peter Sculthorpe
Beautiful Fresh Flower (Chinese melody)
Melbourne Symphony Orchestra, Geoffrey Simon (conductor)
02:38AM
Puccini, Giacomo (1858-1924)
Nessun dorma - from Turandot [arr for trumpet and orchestra]
Jouko Harjanne (trumpet), Norwegian Radio Orchestra, Ari Rasilainen (conductor)
02:42AM
Sjögren, Emil (1853-1918)
Cello Sonata in A major (Op.58) (1912)
Mats Rondin (cello), Bengt Forsberg (piano)
03:01AM
Prokofiev, Sergey (1891-1953)
Violin Concerto No.1 in D major (Op.19)
David Oistrakh (violin), Royal Concertgebouw Orchestra, Bernard Haitink (conductor)
03:23AM
Handel, Georg Frideric (1685-1759)
Overture (Suite) in G minor
Ad van Sleuwen (organ) on organ of Wallse Kerk, Breda (1763)
03:41AM
Cavalli, Francesco (1602-1676)
Plainsong Antiphon and Magnificat
Concerto Palatino
04:00AM
Rosenmuller, Johann (c.1619-1684)
Sinfonia à 4
Tafelmusik Baroque Soloists
04:07AM
Beethoven, Ludwig van (1770-1827)
Sonata for violin and fortepiano in E flat (Op.12 No.3)
Hiro Kurosaki (violin), Linda Nicholson (fortepiano)
04:26AM
Grieg, Edvard (1843-1907)
Quartet for strings in F major [unfinished]
Vertavo Quartet
04:43AM
Schubert, Franz (1797-1828)
Erster Verlust (D.226) (Op.5 No.4) (First Loss)
Wer nie sein Brot mit Tränen aß (D.479) - from Three Songs of the Harpist (Op.12 No.2)
Christoph Prégardien (tenor), Andreas Staier (fortepiano) [The fortepiano is modelled by Christopher Clarke, Paris 1981, on a fortepiano built by Johann Fritz, Vienna c.1815. It belongs to the collection of Marcia Hadjimarkos]
04:50AM
Kurpinski, Karol (1785-1857)
Dwie Chatki (Two Huts)
Sinfonia Varsovia, Grzegorz Nowak (conductor)
05:01AM
Haydn, Joseph (1732-1809)
(Großes) Te Deum in C major (Hob XXIIIc:2) [1800]
Netherlands Radio Choir and Chamber Orchestra, Antoni Ros-Marba (conductor)
05:10AM
Haydn, Johann Michael (1737-1806)
Sinfonia in E flat major (MH.340) (P.17)
Academia Palatina, Florian Heyerick (director)
05:25AM
Liszt, Franz (1811-1886)
Csardas macabre
Jenö Jandó (piano)
05:33AM
Saint-Saëns, Camille (1835-1921) transcr. Eugen d'Albert
Danse macabre - symphonic poem transcr. for piano [orig. orchestra, Op.40]
Eugen d'Albert (1864-1932) (piano)
05:41AM
Karlowicz, Mieczyslaw (1876-1909)
Stanislaw and Anna of Oswiecim - symphonic poem (Op.12) (1906-7)
National Polish Radio Symphony Orchestra, Stanislaw Wislocki (conductor)
06:04AM
Schlegel, Leander (1844-1913)
Sonata for piano and violin (Op.34) (1910)
Candida Thompson (violin), David Kuyken (piano)
06:26AM
Muethel, Johann Gottfried (1728-1788)
Jesu, meine Freude, arr. for organ (Versus 1/2/3/ Berlin State Library manuscript Ms.mus.15762)
Ludger Lohmann (organ of Kreuzkirche, Herne)
06:35AM
Kotowicz (18th century)
Cos ucznilo - Planctus de Passione for soprano, strings and continuo
06:38AM
Anonymous (18th century)
Gorzkie zale - Planctus de Passione for 2 sopranos, strings and continuo
Concerto Polacco
06:44AM
Juon, Paul (1872-1940)
Humoreske (Allegro) - from Satyrs and Nymphs (Op.18 No.7) for piano
Desmond Wright (piano)
06:46AM
Debussy, Claude (1862-1918)
L'isle joyeuse
Roger Woodward (piano)
06:52AM
Ivanovs, Janis (1906-1983)
Cello Concerto - 2nd movement
Agnese Rugevica (cello), Liepaja Symphony Orchestra, Imants Resnis (conductor.