Main content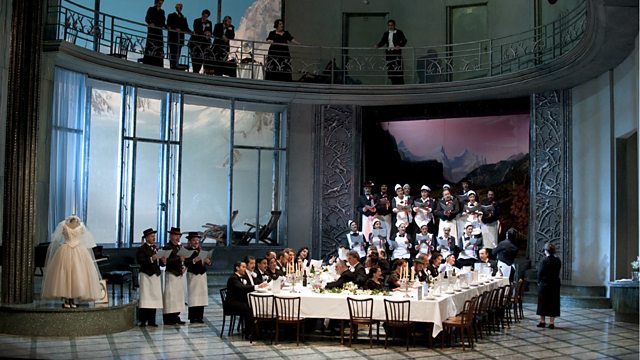 A performance of Bellini's La Sonnambula, given in early 2010 at the Opera Bastille, Paris. Soprano Natalie Dessay stars as the sleepwalking heroine.
Radio 3's Thursday Opera Matinee season continues with Bellini's La Sonnambula, recorded earlier this year at the Opera Bastille, Paris. In a small Swiss village, orphan girl Amina's betrothal to her beloved farmer Elvino is threatened by her uncontrollable sleepwalking. Bellini's 1831 score is a subtle blend of dazzling vocal fireworks and genuinely touching emotion.
As the heroine, soprano Natalie Dessay won rave reviews: the New York Times praised her "beguiling tone, supple phrasing and lovely vocal colours." She's "happily partnered" with tenor Javier Camerena as Amina's love-interest Elvino.
The opera's followed by more from the BBC National Orchestra of Wales and Vasily Petrenko, conductor of Sunday's BBC Young Musican competition final. To conclude we hear from this year's piano finalist. Presented by Jonathan Swain.
Amina ..... Natalie Dessay (soprano)
Elvino ..... Javier Camarena (tenor)
Count Rodolfo ..... Michele Pertusi (bass)
Lisa ..... Marie-Adeline Henry (soprano)
Alessio ..... Nahuel di Pierro (bass)
A notary ..... Jian-Hong Zhao (tenor)
Paris National Opera Chorus and Orchestra
Evelino Pido (conductor)
4.15pm
Bartok: Dance Suite
BBC National Orchestra of Wales
Vasily Petrenko (conductor)
4.35pm
Performances by the winner of the 2010 BBC Young Musician piano category.