Main content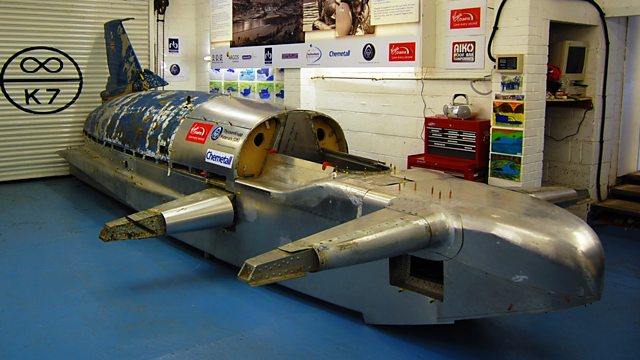 Bluebird's Return to Coniston Water
Matt Baker is in Coniston to find out what the return of Donald Campbell's boat, Bluebird, will mean to the community which protected it after it crashed on the lake in 1967.
Matt Baker is in Coniston to find out about the planned return to the water of Donald Campbell's iconic boat, Bluebird, and what this will mean to the village which has protected it since it crashed in 1967.
When Donald Campbell died on Coniston Water in January 1967 attempting to break his own water speed record, it was to many people the end of an era. They would always remember where they were when the iconic images of Bluebird crashing and disintegrating on the lake appeared on TV screens and the story broke across the world. On 8 March 2001, after 34 years underwater, Donald Campbell's ill-fated craft, Bluebird, was raised from the deep by wreck finder and engineer, Bill Smith, and later that year on 28 May Donald Campbell's remains were recovered. In September 2001, he was finally laid to rest in the churchyard in Coniston. Now his daughter Gina, who shares her father's addiction to speed, wants Bluebird restored to her 'beautiful, magnificent self', in the hope of inspiring the next generation of racers, engineers and adventurers. She joins Matt in Coniston to explain why and how it is of the utmost importance that both her father and Bluebird remain in Coniston, a community which took Donald Campbell in and made him him one of its own.
Bill Smith, the man responsible for raising Bluebird from Coniston Water, takes Matt to the spot from which he dived to the bottom of the lake and discovered the wreck when he was grabbed on the foot by Bluebird's tail fin. He describes the moment when he also discovered Campbell's body after Gina Campbell had asked him to look for her father. Anthony 'Robbie' Robinson has lived in Coniston all his life and was a member of Donald Campbell's team on that fateful day in 1967. Standing on the jetty at Pier Cottage, from where Campbell left on that fateful morning, he tells Matt how it felt to watch Bluebird flip over and disappear into the lake.
At Donald Campbell's graveside, Matt meets Steve Hogarth, vocalist with Marillion whose lyrics inspired Bill Smith to first dive for Bluebird back in 1996. Although only 8 years old at the time, the memory of his mother crying when the boat crashed never left Steve and found its way into song years later, a song which he was invited to sing at Donald's funeral....'Three hundred miles an hour on water, in your purpose built machine'. How does it feel to know that without his music, Bluebird could still be at the bottom of the lake?
Gina Campbell has now given Bluebird to the Ruskin Museum and, more importantly, to the village and people of Coniston who protected her father and the crash site for so long. Matt hears from both Gina and Bill Smith about the army of volunteers who are carrying out a labour of love on Bluebird ahead of a planned return to the waters of Coniston, hopefully in 2011 and from the curator of the museum, Vicky Slowe about what this means to the museum and the local community. Who will take the seat in that famous cockpit? What will this mean for the community of this quiet Cumbrian village which has become synonymous with the names Campbell and Bluebird? Where behind the Black Bull Inn & Hotel the Coniston Brewing Company turns out Bluebird Bitter and where walkers and visitors can enjoy the views over the lake from the Bluebird Cafe. And how will it feel to stand on the shores of Coniston Water and watch Bluebird fly again?
Producer: Helen Chetwynd.
Podcast
Countryside magazine featuring the people and wildlife that shape the landscape of Britain