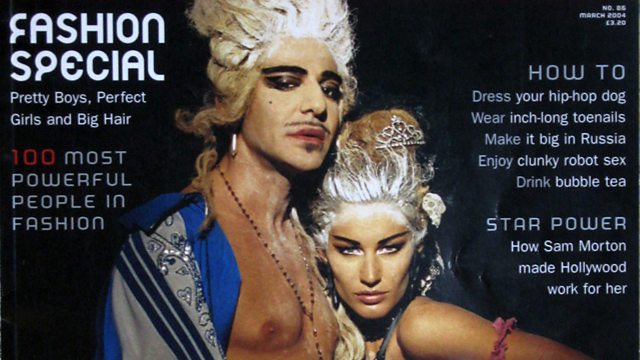 Launching the Style Decade
30 years after it was launched, Robert Elms investigates the origins and influence of The Face, the 'style bible' of the 80s. The magazine was at the forefront of a remarkable change in the visual landscape of Britain in the 1980s: from Sunday newspaper supplements, to television ads, to ordinary high street shop fronts.
Until 1980 music magazines were black and white broadsheet papers like the NME and Melody Maker. Then in the summer of 1980 The Face changed all that. Started by the former NME and Smash Hits editor Nick Logan, it brought a flash of colour to the magazine industry, mixing pop, politics, photography, fashion and style, all tied together by the iconic design of art director Neville Brody.
The Face advocated that music didn't matter unless everyone looked good. With the innovative marriage of fashion and music, 'the best dressed magazine' quickly became the arbiter of style and cool in 1980s England.
At its most successful The Face was at the forefront of every major youth movement and was pivotal in launching the career of models Kate Moss and photgrapher Juergen Teller. Taking stock, publisher Nick Logan and Neville Brody reveal what they believe to be the lasting impact of The Face on style and design.
The producer is Barney Rowntree, and this is a Somethin Else production for BBC Radio 4.