Main content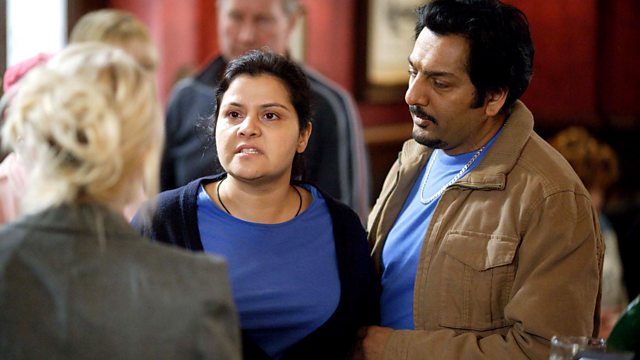 27/04/2010
The Masoods are the talk of the Square; can Zainab ever forgive Syed for destroying her family? To Whitney's horror, Billie Jackson is determined to attend his army interview.
Masood and Tamwar hide a framed copy of their family photo from Zainab. Masood tells Tamwar to stay away from Syed. Zainab wants to hide from the world, but Masood insists they all run the stall together. Tamwar tries to call, then visit, Syed, but there's no response from his brother.
Zainab's aware that everyone's gossiping about Syed and after a confrontation with Roxy she retreats home. Zainab finds the framed photo and breaks down. Upset, Zainab wants to see Syed. Masood tries to stop Zainab, then follows as she charges out of the house and into the Vic. The pub falls silent, prompting Zainab to speak her mind and defend her family's actions.
Roxy and Christian walk in and in the ensuing argument it becomes clear that no one knows where Syed is. They rush to Syed's flat - Tamwar's there but Syed's gone.
Whitney persuades Billie to visit Jack. Billie apologises to Jack, who calls him a coward and tells him to get out. Later, to Whitney's dismay, Billie tells her he went to his second interview, he's going to join the army and make Jack proud.
Louise steals Ben's diary and reads an extract about Leon to her friends. Phil confiscates the diary, worried by its contents. Shirley points out that the sections about Leon are in girl's handwriting, Louise must have added them. Phil's still concerned, but can't bring himself to talk to Ben.
The ice cream van's transformed, Billie's painted the outside and Fat Boy's acquired a sofa. The 'Blue Masquerader' leaves perfume in the van for Zsa Zsa. Becca gets Mo to buy Whitney's T-shirts from Fat Boy claiming they're for Fat Elvis, then sells them on her stall.
Separately, Pat and Peggy arrange dates with Harvey. Liz returns from Spain.
Credits
| Role | Contributor |
| --- | --- |
| Zainab Masood | Nina Wadia |
| Masood Ahmed | Nitin Ganatra |
| Tamwar Masood | Himesh Patel |
| Christian Clarke | John Partridge |
| Jack Branning | Scott Maslen |
| Billie Jackson | Devon Anderson |
| Whitney Dean | Shona McGarty |
| Carol Jackson | Lindsey Coulson |
| Phil Mitchell | Steve McFadden |
| Shirley Carter | Linda Henry |
| Ben Mitchell | Charlie Jones |
| Louise Mitchell | Brittany Papple |
| Ronnie Mitchell | Samantha Womack |
| Roxy Mitchell | Rita Simons |
| Peggy Mitchell | Barbara Windsor |
| Pat Evans | Pam St Clement |
| Zsa Zsa Carter | Emer Kenny |
| Becca Swanson | Simone James |
| Fat Boy | Ricky Norwood |
| Executive Producer | Diederick Santer |
| Director | Francesca Joseph |
| Writer | Martin Brocklebank |
| Leon Small | Sam Attwater |
| Dot Branning | June Brown |
| Liz Turner | Kate Williams |
| Charlie Slater | Derek Martin |
| Mo Harris | Laila Morse |
| Ricky Butcher | Sid Owen |
| Mr Lister | Nick Wilton |