Main content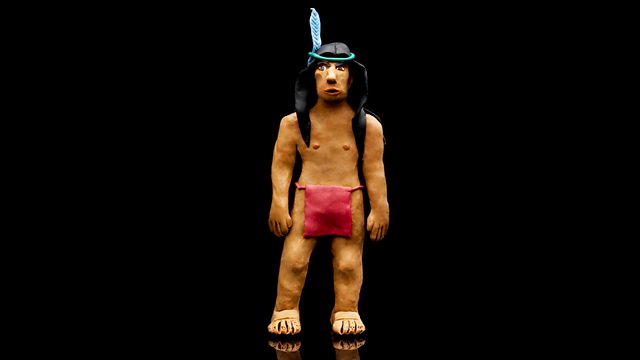 The Indian in the Cupboard
Lynne Reid Banks' story about 11-year-old Omri and the bathroom cabinet that brings a plastic Native American Indian figure to life.
Eleven year old Omri isn't very impressed with the rubbish birthday present from his friend Patrick, a plastic Native American Indian figure. But he's delighted with the old bathroom cupboard given him by his elder brothers Adiel and Gillon. That night Omri puts the Indian in the cupboard for safe keeping, and locks the door. In the morning he's woken by noises from inside the cupboard - and opening the door, finds the Indian has come to life, and his name is Little Bull. Which is all very exciting, but now he has to find a way of looking after a real human being who, although he is only 3 inches tall, needs to be fed, and wants a horse, and a wife. And when Patrick finds out, it becomes very difficult indeed.
Written by Lynne Reid Banks (who also wrote The L Shaped Room), she brings to it all the seriousness and humanity - and humour - of her adult fiction. And like that other story of little people, The Borrowers, this story explores human nature and real moral and ethical issues as Omri realises the power he has over Little Bull.
Dramatised for radio by Jane Purcell.
Omri ..... Dominic Herman-Day
Patrick ..... George Sanderson
Little Bull ..... Ben Crowe
Tommy Atkins ..... Tom Andrews
Adiel ..... Luke Banasiewicz
Gillon ..... Sam Harris
The producer is Chris Wallis, and this is an Autolycus production for BBC Radio 4.