Main content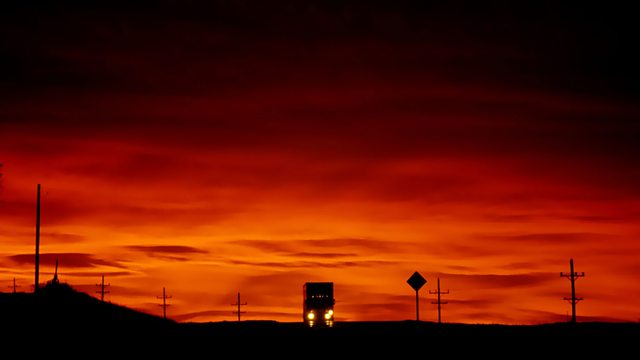 01/05/2010
Susan Sharpe presents music by Widmann, Mozart, Bruckner, Debussy, Byrd, Suk, Smetana, CPE Bach, Huggett, Berlioz, Debussy, Vaughan Williams, Bartok, Gratton, Pfitzner and Grieg.
Susan Sharpe presents rarities, archive and concert recordings from Europe's leading broadcasters
01:01AM
Widmann, Jörg [1973- ]
Con brio
01:13AM
Mozart, Wolfgang Amadeus (1756-1791)
Concerto for violin and orchestra no. 3 (K.216) in G major
Arabella Steinbacher (violin)
01:38AM
Bruckner, Anton [1824-1896]
Symphony No.3 in D minor
Bamberg Symphony Orchestra, Jonathan Nott (conductor)
02:43AM
Debussy, Claude (1862-1918), arr. Maarten Bon
Jeux arranged for 8 hands
Yoko Abe, Gérard van Blerk, Maarten Bon, Sepp Grotenhuis (pianos)
03:01AM
Byrd, William (1543-1623)
The Carman's Whistle
Stefan Trayanov (harpsichord)
03:08AM
Suk, Josef (1874-1935)
Pohadka Zimniho Vecera [A Tale of a Winters evening] (Op.9)
Prague Radio Symphony Orchestra, Rudolf Vasata (conductor)
03:25AM
Smetana, Bedrich (1824-1884)
Sonata movement in E minor (B.70) - for 2 pianos
Else Krijgsman, Mariken Zandliver, David Kuijken, Carlos Moerdijk (pianos)
03:36AM
Bach, Carl Philipp Emanuel (1714-1788)
Concerto for flute and strings in D minor (H.426)
Robert Aitken (flute), CBC Vancouver Orchestra, Mario Bernardi (conductor)
03:58AM
Huggett, Andrew (b. 1955)
Suite for accordion and piano - 4 pieces based on East Canadian folksongs
Joseph Petric (accordion), Guy Few (piano)
04:13AM
Hindemith, Paul (1895-1963)
Trauermusik for viola and string orchestra
Rivka Golani (viola), Toronto Symphony Orchestra, Andrew Davis (conductor)
04:21AM
Bridge, Frank (1879-1941)
Miniatures - No.8 Valse Russe for violin, cello and piano
Moshe Hammer (violin), Tsuyoshi Tsutsumi (cello), William Tritt (piano)
04:25AM
Berlioz, Hector (1803-1869)
Le Carnaval romain - overture (Op.9)
Toronto Symphony Orchestra, Andrew Davis (conductor)
04:35AM
Servais, Adrien François (1807-1866)
La Romanesca
Servais Ensemble
04:39AM
Debussy, Claude (1862-1918)
Estampes for piano
Roger Woodward (piano)
04:55AM
Glazunov, Alexander Konstantinovich (1865-1936)
Chant du menestrel (Op.71)
Shauna Rolston (cello), Calgary Philharmonic Orchestra, Mario Bernardi (conductor)
05:01AM
Monteverdi, Claudio (1567-1643) (arr. Heinrich Schütz)
Güldene Haare
The Sweelinck Ensemble
05:04AM
Schütz, Heinrich (1585-1672)
Fuggi, fuggi o mio core (SWV.8) - from Il Primo Libro de Madrigali Venice 1611
The Consorte of Musicke, Anthony Rooley (conductor)
05:07AM
Rangström, Ture (1884-1947)
Suite for violin and piano No.2 (in Modo barocco) (1921-2)
Tale Olsson (violin), Mats Jansson (piano)
05:18AM
Vaughan Williams, Ralph (1872-1958)
Fantasia on a theme of Thomas Tallis
The Royal Academy Soloists, Clio Gould (director)
05:31AM
Bartok, Bela [1881-1945]
Suite for piano (Sz.62) (Op.14)
Eduard Kunz (piano)
05:40AM
Mozart, Wolfgang Amadeus (1756-1791)
Overture - from Der Schauspieldirektor, singspiel in 1 act (K.486)
Bergen Philharmonic Orchestra, Ivor Bolton (conductor)
05:46AM
Gratton, Hector (1900-1970)
Légende
Orchestre Métropolitain, Gilles Auger (conductor)
05:55AM
Pfitzner, Hans (1869-1949)
Symphony no.2 in C major (Op.46)
Symphony Novia Scotia, Georg Tintner (conductor)
06:14AM
Grieg, Edvard (1843-1907)
Sonata for piano (Op.7) in E minor
Zoltán Kocsis (piano)
06:31AM
Luengen, Ramona (b. 1960)
O Lacrimosa (1993)
Phoenix Chamber Choir, Ramona Luengen (conductor)
06:45AM
Boulogne, Joseph - Chevalier de Saint-Georges (c.1748-1799)
Symphony in G major (Op.11, No.1) (1779)
Tafelmusik Orchestra, Jeanne Lamon (conductor).