Main content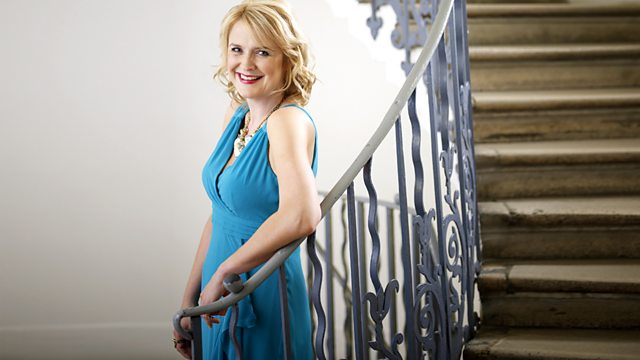 Friday - Sarah Walker
With Sarah Walker. Brahms: Tragic Overture. Mozart: Die Zauberflote (excerpt). Schumann: Piano Quintet in E flat, Op 44. Wagner: Lohengrin (excerpt). Smyth: Overture (The Wreckers).
Classical Collection with Sarah Walker. Classic recordings and great performances. The ethereal spirituality of Wagner's prelude to Lohengrin and a song on the subject of Courtly Love summon up the Medieval age, and there are classic recordings of Ethel Smyth's overture to the Wreckers & Schumann's Piano Quintet in E flat, Op.44.
10.00*
Brahms
Tragic Overture, Op.81
Berlin Philharmonic Orchestra
Herbert von Karajan (conductor)
EMI 512038-2
10.14*
Mozart
Hm! Hm! Hm! (Die Zauberflote, Act I Quintet)
Papageno: Anton Scharinger (baritone)
Tamino: Hans Peter Blochwitz (tenor)
Three Ladies: Anna-Maria Panzarella (soprano) Doris Lamprecht (mezzo-soprano) Delphine Haidan (alto) Les Arts Florissants William Christie (director)
ERATO 0630 12705-2
10.20*
Schumann
Piano Quintet in E flat, Op.44
Martha Argerich (piano),
Dora Schwarzenberg & Lucy Hall (violins), Nobuko Imai (viola), Mischa Maisky (cello)
EMI CDS 5554842
10.50*
Wagner
Lohengrin: Prelude, Act I
Vienna Philharmonic
Georg Solti (conductor)
DECCA 440 606-2
11.00*
Chastelain de Couci (fl.1180-1200) also known as Gui IV de Couci
Li nouviauz tanz
John Mark Ainsley (tenor)
HYPERION CDH55292
11.06*
Smyth
The Wreckers: Overture
Scottish National Orchestra
Alexander Gibson (conductor)
EMI CDM 769206-2
11.20*
Lalo
Symphonie espagnole, Op.21
Itzhak Perlman (violin)
Orchestre de Paris
Daniel Barenboim (conductor)
DG 429 977-2.