Main content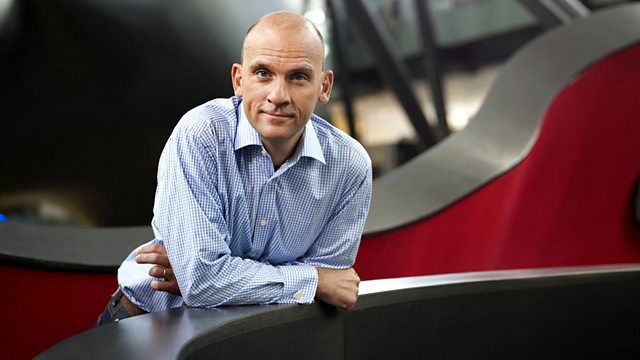 Django Bates' Beloved Bird Trio
Jez Nelson presents pianist Django Bates and his new trio Beloved Bird recorded live in concert, performing their interpretations of music by Bates' hero, Charlie Parker.
Jez Nelson presents a concert by pianist Django Bates and his new trio Beloved Bird, in which they perform new interpretations of music by Bates' hero, the pioneering saxophonist Charlie Parker. Bates has said, 'having heard Charlie Parker's music from my birth onwards, I knew it was good in the way that I knew that food was good. It was nutrition: a life force'. Parker classics such as Now's The Time and Moose the Mooche will be re-arranged and de-constructed resulting in various levels of recognizability.
Beloved Bird features Petter Eldh on bass and Peter Bruun on drums. Best known for playing keyboards, this is the first time Bates has toured with an acoustic piano trio in many years, and he acknowledges that two classic American piano trios provided particular inspiration: the Bill Evans Trio and The Bad Plus. For the latter, the admiration is certainly mutual, and this programme also features an extensive interview with Bates by Bad Plus pianist Ethan Iverson.
Now residing in Copenhagen, where he's Professor of Rhythmic Music at the Rhythmic Music Conservatory, Django Bates first came into the public eye as a member of seminal 1980s big band Loose Tubes. Since then he has led his own large ensemble Delightful Precipice, found an outlet for his more experimental compositions with his small group Human Chain and won numerous awards including being voted Best UK Jazz Composer three times by The Wire.
Presenter: Jez Nelson
Producer: Joby Waldman & Peggy Sutton.
Music Played
Ethan Iverson interviews Django Bates part 1

Django Bates' Beloved Bird Trio recorded at The Vortex, London on April 13, 2010

Untitled

Line up: Django Bates (piano), Petter Elde (bass), Peter Brun (drums)

Ethan Iverson interviews Django Bates part 2

Django Bates' Beloved Bird Trio recorded at The Vortex, London on April 13, 2010

Untitled

Line up: Django Bates (piano), Petter Elde (bass), Peter Brun (drums)