Main content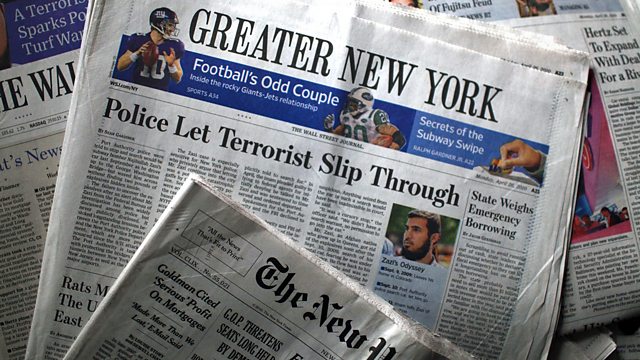 28/04/2010
Rupert Murdoch's Wall Street Journal takes on the New York Times; dealing with microphone gaffes; Labour's Ben Bradshaw on media plans; Jane Root on why UK TV is big in USA.
Twenty years after the Times took on the Telegraph in the war to become the UK's leading upmarket newspaper, Rupert Murdoch has declared a similar war in New York. This week, his Wall Street Journal has been running local stories in New York, to go head to head with the New York Times. Former Wall Street Journal media reporter Sarah Ellison looks at the motivation for this war and Peter Preston, former editor of the Guardian, recalls the difference that competition made in the 1990s. Sarah Ellison's book, "War at the Wall Street Journal" is out this week - details at www.sarahellison.com
Peter Preston also gives his view on Gordon Brown's microphone gaffe. Why do media-trained politicians still make such fundamental technical mistakes?
In the latest of our series, Labour's Ben Bradshaw talks about his party's media policy. In previous weeks, Steve Hewlett has spoken to the Conservative's Jeremy Hunt and the Liberal Democrat's Don Foster.
And Jane Root, former controller of BBC2, talks about her latest venture ,"America: the Story of Us", a CGI enhanced documentary on the US history since Jamestown. Why is a UK tv producer making such a high profile US series and why are UK documentary formats so successful in the US?
Last on
Broadcast