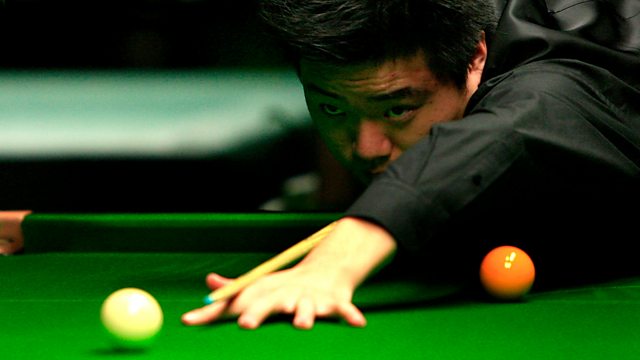 China: Saviours of Snooker
When two Chinese players met at the World Snooker Championships in Sheffield, 100 million people tuned in to watch. The growth of this often-derided armchair sport in the Far East is nothing short of remarkable, with players like Ding Junhui and Liang Wenbo fast-becoming national celebrities on an unimaginable scale. But these elite players have turned their backs on the bright lights of Beijing, and have moved to the once-thriving industrial city of Sheffield to take advantage of the world-class facilities at snooker's national academy.
Journalist and broadcaster Martin Kelner talks to Ding Junhui about how well he's adapting to a life in Britain, and the impact of the game's popularity in his home country.
He talks to promoter Barry Hearn, the newly installed Chairman of the WPBSA, who pioneered the early trips to China in the mid-80s with his Matchroom stars like Steve Davis, with reflections from Davis on China at that time, and the part it could play in the future of the game.
There are also contibutions from 2009 China Open winner Peter Ebdon, and recordings from the glitzy opening ceremony at this year's tournament.
Hearn also discusses his plans for the modern game, and the steps he deems necessary to inject some life back into the game that has previously been starved of excitement, sponsorship, and prize-money.
Producer: Toby Field