Main content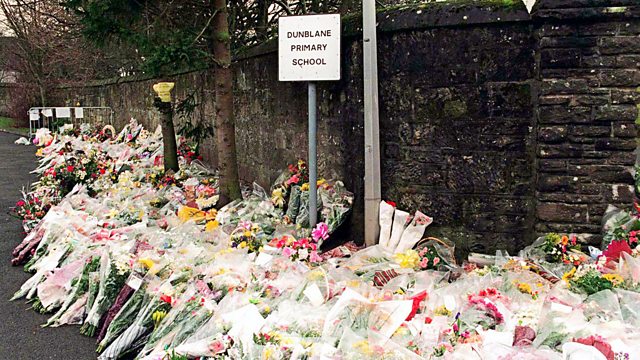 Dunblane
Sue McGregor reunites people affected by the Dunblane school shootings in 1996, including surviving teacher Eileen Harrild and parents Mick North and Pam Ross.
In the fourth programme of the BBC Radio 4 spring series of The Reunion, Sue MacGregor revisits the Dunblane Primary School shootings in 1996.
On the morning of March 13, Thomas Hamilton, armed with four handguns and 700 rounds of ammunition, killed 16 school children and their teacher, and wounded many more in an attack that lasted three minutes before finally turning the gun on himself.
Dunblane's community was shattered in an instant and immediately thrust into the media spotlight. Messages of support flooded in from all over the world.
The shootings sparked a massive call for tighter gun controls. The Snowdrop Campaign, set up by Dunblane residents, was successful in achieving a change in the law in 1997, making it illegal to buy or possess handguns.
Sue is joined around the table by school teacher Eileen Harrild, who was Hamilton's first target in the school gymnasium, but despite being shot four times survived the attack; bereaved parents Mick North and Pam Ross, whose respective five-year-old daughters Sophie and Joanna were killed; social worker Marie Sinclair, who counselled some of the grieving parents, and Sunday Times writer Jenny Shields, who wrote about Dunblane and its consequences and accompanied gun control campaigners on their protests.
Producers: Chris Green and David Prest
A Whistledown Production for BBC Radio 4.