Main content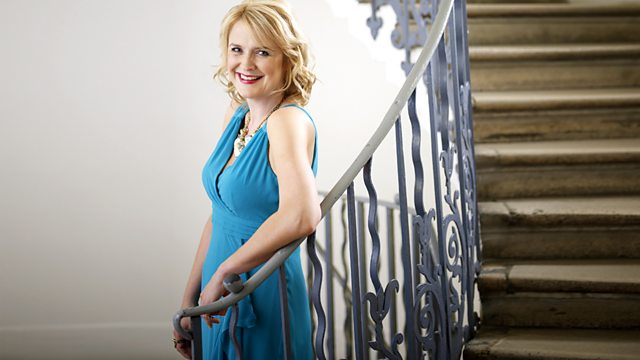 Thursday - Sarah Walker
With Sarah Walker. Dvorak: Slavonic Dance in C. CPE Bach: Trio Sonata in C minor, Wq 161 No 1. Shostakovich: Piano Concerto No 2. Ravel: Violin Sonata. Dvorak: Serenade in E, Op 22.
Classical Collection with Sarah Walker. Great recordings and classic performances.
Musical blues from the Berlin Bach to Ravel, Copland and Ellington.
10.00
Ellington
Mood Indigo
Doris Day (vocals)
Harry Zimmerman's Orchestra
Harry Zimmerman (conductor)
LP: PHILIPS BBL 7377
10.04*
Dvorak
Slavonic Dance in C Op.46 No.1
Bavarian Radio Symphony Orchestra
Rafael Kubelik (conductor)
CD: DG 419 056-2
10.08*
C.Ph.E. Bach
Trio Sonata in C minor 'Sanguineus et melancholicus' Wq.161/1 Florilegium
CD: CHANNEL CLASSICS CCS 11197
10.25*
Shostakovich
Piano Concerto No.2 in F Op.102
John Ogdon (piano)
Royal Philharmonic Orchestra
Lawrence Foster (conductor)
CD: EMI 5 74491 2
10.46*
Ravel
Violin Sonata
Arthur Grumiaux (violin)
Istvan Hajdu (piano)
CD: PHILIPS 473 104-2 [5 CDs]
11.04*
Copland's 4 Piano Blues performed by 4 pianists
Copland
4 Piano Blues - (i) Freely Poetic (for Leo Smit) Leo Smit (piano)
CD: SONY CLASSICAL SM2K 66 345 [2 CDs]
4 Piano Blues - (ii) Soft and Languid (for Andor Foldes) Paul Jacobs (piano)
CD: NONESUCH 79006-2
4 Piano Blues - (iii) Muted and Sensuous (for William Kapell) Joanna MacGregor (piano)
CD: LDR LDRCD 1004
4 Piano Blues - (iv) With Bounce (for John Kirkpatrick) Leo Smit (piano)
LP: VARESE SARABANDE VC 81098
11.12*
Dvorak
Serenade in E Op.22
Ferenc Liszt CO
Janos Rolla (conductor)
CD: QUINTANA QUI 903005
11.39*
Debussy
Ariettes oubliees
Suzanne Danco (soprano)
Guido Agosti (piano)
CD: TESTAMENT SBT 1289.