Main content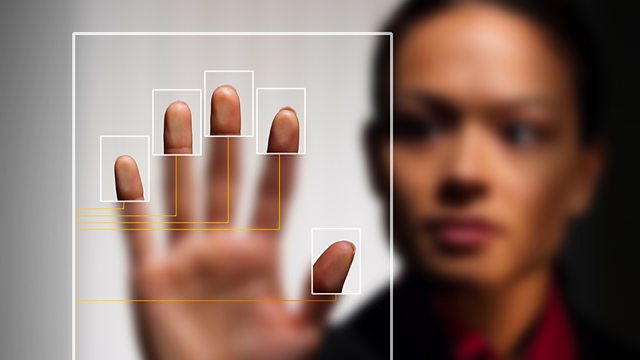 Biometrics: An Identity Crisis
Gerry Northam investigates the reliability of the science behind biometrics and explores how this controversial technology is being deployed in the UK.
Gerry Northam investigates the reliability of the science behind biometrics and explores how this technology is being deployed in the UK to protect and preserve our identity and security.
Biometrics or bio-identification is the science and technology employed to verify your identity using a biological trait that is unique to you, such as your face, your iris, a set of fingerprints, the way you sign your name or even the sound of your voice. For politicians, the term 'biometrics' has become something of a panacea - universal short hand for safe, reliable and secure: 'don't worry about the details - it's biometric, meaning, its complex science and therefore impossible to crack. Unsurprisingly, scientists who work on biometric systems don't agree.
Biometrics also lie at the heart of a confused and controversial debate around identity politics in the UK. Increasingly, it seems, biometrics will be the means by which you will need to identify yourself in world, to prove who you are not just at airports when you go on holiday (with biometric fingerprint passports from 2012), but, in the not too distant future, commentators are painting scenarios where biometrics will allow you to vote, get a mortgage, shop, access benefits and even healthcare. But what we're lacking, say critics, is any real public debate about how these systems are being deployed and in whose interest.
The UK's policy on identity and the use of biometric technologies seems strangely undercooked given that this has been on the agenda since at least 2002, if not before. In recent years the issue has been mired in (at times) furious arguments about privacy, data theft and data sharing. The central controversy is the creation of a national identity register containing the fingerprint and detailed biographical information of millions of British citizens. This could ultimately be shared with agencies in the UK and around the world, something lobbyists are unhappy with. But some scientists believe that the technology being deployed in the UK to underpin this database - fingerprint biometrics - is the wrong choice. It's a system far less reliable than, say, iris scanning, probably the least error prone of all the systems but which was rejected on the grounds of cost and whose benefits may have even been mis-represented to Parliament. We'll talk to one academic who claims this is the case as well as another whose research seems to show that it is possible to reconstruct meaningful data about an individual from the encrypted fingerprint 'code' (called the minutae points) that would be embedded into a typical biometric ID card - something that is supposed to be impossible.
After a two year hiatus and on the eve of a general election, the Labour Government have come out firmly in favour of implementing a voluntary ID card scheme along with a national ID register that they hope will grow exponentially after 2012 once biometric passports come into force. They see the creation of a biometric ID card as a means of liberation and certainty for millions of people, and perhaps it is. Meanwhile neither Tories nor Lib Dems have yet to make a clear statement about how they might proceed should the election go their way, but it's clear that some elements of the whole scheme could be dismantled whilst others stay in place.
With governments around the world investing billions in these systems and the UK moving towards more widespread use in the next decade, Gerry Northam investigates the myths and realities around biometrics, where both the science and the policy seems to be experiencing an identity crisis.
Last on
Broadcasts