Main content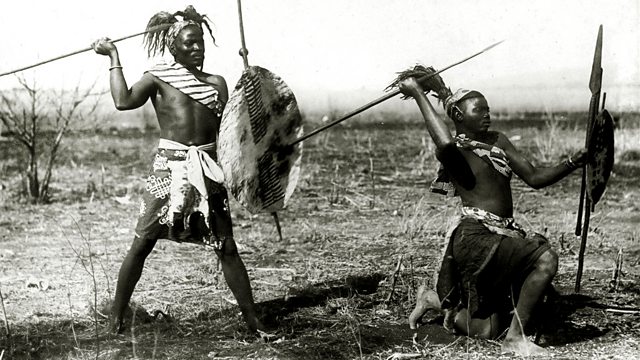 The Zulu Nation's Rise and Fall
Melvyn Bragg and guests Saul David, Shula Marks and Saul Dubow discuss the rise and fall of the Zulu Nation.
Melvyn Bragg and guests discuss the rise and fall of the Zulu Nation.At the beginning of the 19th century, the Zulus were a small pastoral community of a bare few thousand people in the eastern part of what is now South Africa. Their territory was limited to about ten square miles.But within a decade, led by their warrior king, Shaka, they had managed to carve out an empire with a population of many tens of thousands.Shaka was a skilled politician, successfully co-opting many neighbouring peoples into his kingdom as his conquests advanced its borders.He remains best known as a world-class military strategist, who deployed new weapons, and a devastatingly effective technique of encircling enemy troops.But the ground for the Zulus' breathtaking expansion was shaped in part by the destabilising advance of European settlers.It eventually brought the Zulu into confrontation both with the Afrikaners, as at the Battle of Blood River in 1838, and with the British.In the mid-19th century, the Zulu and the British achieved a sustained period of peaceful co-existence.But, especially after the discovery of diamonds began to transform the southern African economy, British priorities changed, and they began to push for a single confederation of the various provinces and colonies.Zululand's independence became an obstacle, and in 1879 the British invaded.On 22 January 1879, the Zulu were unable to overrun a tiny garrison of invaders at Rorke's Drift.Yet on the same day, at the Battle of Isandhlwana, they inflicted a shocking defeat on the well-armed forces of the British Empire - all the more impressive given that the Zulu soldiers were predominantly armed with spears.Nonetheless, the British invasion of Zululand was ultimately successful, and precipitated first annexation, then the kingdom's absorption into the province of Natal (today, KwaZulu-Natal).During their heyday and in the wake of their decline alike, the Zulu became the subject of much myth-making.To the British, the 'Black Napoleon' figure of Shaka, and the vivid image of a proud warrior race, made the Zulu an object of admiration, fear, and appalled fascination, even as the Army moved to subjugate them.And in the decades since the demise of their independent kingdom, the triumphs of the 19th century long remained an important element of the Zulus' collective self-image.With:Saul DavidProfessor of War Studies at the University of BuckinghamSaul DubowProfessor of History at the University of SussexShula MarksEmeritus Professor of History at the School of Oriental and African Studies, University of LondonProducer: Phil Tinline.
Last on
Broadcast

Featured in...
Browse the 19th Century era within the In Our Time archive.

Historical themes, events and key individuals from Akhenaten to Xenophon.