Main content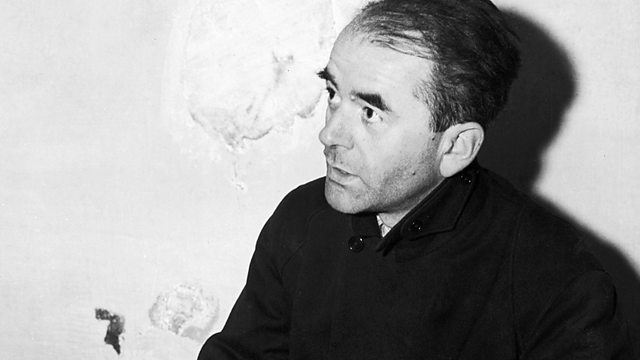 Michael Butt - Albert Speer's Walk Around the World
Known as Prisoner Number Five in Spandau prison, Albert Speer invented global journeys to keep sane. Stars Patrick Malahide, Daniel Weyman and Basher Savage.
Patrick Malahide stars as Albert Speer or Prisoner Number Five, as he was known throughout his twenty years in Spandau Prison. Michael Butt's play 'Albert Speer's Walk Around the World' takes us on the imaginary journeys Speer devised to engage his mind and keep him from despair. A sympathetic American guard orders him travel books from the library and he plots his routes methodically. But he can't escape from the demons of guilt about Nazi war crimes. Sometimes the scenes he witnesses on his trips are exhilarating; sometimes the people are seductive but sometimes he is glad to be disturbed by the prison guard yelling for him to get back into his tiny cell where he is forbidden to look out of the window. Of the other six inmates, he is closest to Rudolf Hess (Jack Klaff) who he sees as vulnerable and wants to protect, whereas Admiral Karl Donitz (Nicholas Woodeson) constantly baits him and tries to pull rank with him. Donitz can't forgive Speer for his admission of guilt at the Nuremberg Trials.
Speer was Hitler's chief architect and his very efficient Minister for Armaments and War Production. In prison, he is rigorously self-disciplined and sets himself a tough regimen. Prison rules are strict but even as they relax and prisoners start to talk to each other, Speer keeps aloof. To distract himself nine years into his sentence, he designs and creates a garden in the spacious yard of Spandau and is particularly fond of his rockery and flowers. As an architect, he enjoys working out how the great buildings he visits were created and planning his routes so that he when he sets off, he will see and hear and meet the people he has carefully researched. However thoughts come unbidden and there is one judgemental voice in his head that travels everywhere with him.
Technical production: Peregrine Andrews
Director/Producer: Judith Kampfner
Exec Producer: Jill Waters
This is a Waters Company production for BBC Radio 4.
Credits
| Role | Contributor |
| --- | --- |
| Albert Speer | Patrick Malahide |
| Narrator | Daniel Weyman |
| McCleod | Daniel Weyman |
| Kuryev | Basher Savage |
| Donitz | Nicholas Woodeson |
| Hess | Jack Klaff |
| Maria | Mia Soteriou |
| Margaret Hess | Mia Soteriou |
| Mr Young | Patrick Brennan |
| American Tourist | Patrick Brennan |
| Writer | Michael Butt |
| Director | Judith Kampfner |
| Producer | Judith Kampfner |