Main content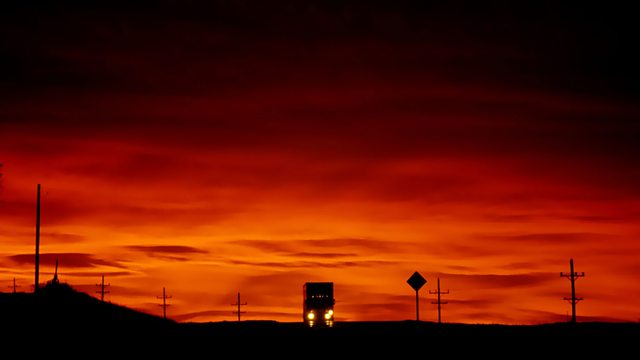 16/04/2010
Jonathan Swain presents music by Borodin, Shostakovich, McPhee, Weber, Rimsky-Korsakov, Donhanyi, Beethoven, Handel, Groneman, Schubert, Barber, Schumann, Respighi, Haydn and Verdi.
Jonathan Swain presents rarities, archive and concert recordings from Europe's leading broadcasters
01:01AM
Borodin, Alexander [1833-1887]
In the steppes of central Asia
Orchestre National de France, Tugan Sokhiev (conductor)
01:10AM
Shostakovich, Dmitry [1906-1975]
Concerto for cello and orchestra no. 2 (Op.126) in G major
Xavier Phillips (cello) Orchestre National de France, Tugan Sokhiev (conductor)
01:42AM
Britten, Benjamin [1913-1976]
Serenata from Suite for cello solo no. 1 (Op.72)
Xavier Phillips (cello)
01:45AM
McPhee, Colin (1900-1964) transcribed McPhee
Balinese Ceremonial music
Ashley Wass (piano), Grace Francis (piano)
01:55AM
Weber, Carl Maria von (1786-1826)
Grand duo concertant for clarinet and piano (Op.48)
Joaquín Valdepeñas (clarinet), Patricia Parr (piano)
02:15AM
Rimsky-Korsakov, Nikolay [1844-1908]
Scheherazade - symphonic suite (Op.35)
Orchestre National de France, Tugan Sokhiev (conductor)
03:01AM
Dohnányi, Ernõ (1877-1960)
Suite im alten Stil for piano (Op.24)
Ilona Prunyi (piano)
03:16AM
Beethoven, Ludwig van (1770-1827)
Piano Concerto No.4 in G major (Op.58)
Nelson Goerne (piano), Norwegian Radio Orchestra, Ari Rasilainen (conductor)
03:51AM
Handel, Georg Frideric (1685-1759)
Concerto Grosso in A major (Op.6 No.11)
Barbara Jane Gilbey (violin), Tasmanian Symphony Chamber Players
04:09AM
Groneman, Albertus (c.1710-1778)
Sonata for Flute in D major
Jed Wentz (flute), Balazs Mate (cello), Marcelo Bussi (harpsichord)
04:23AM
Schubert, Franz (1797-1828) text by Goethe, Johann Wolfgang von (1749-1832)
Gesang der Geistern über den Wassern, Op.167
Estonian National Male Choir, Estonian National Symphony Orchestra, Juri Alperten (director)
04:34AM
Saint-Saëns, Camille (1835-1921) arr. R. Klugescheid
My Heart At Thy Sweet Voice
Moshe Hammer (violin), Tsuyoshi Tsutsumi (cello), William Tritt (piano)
04:38AM
Barber, Samuel (1910-1981)
Adagio for Strings (Op.11)
Melbourne Symphony Orchestra, Jorge Mester (conductor)
04:47AM
Schumann, Robert (1810-1856)
Arabeske for piano (Op.18) in C major
Seung-Hee Kim (piano)
04:54AM
Nielsen, Carl (1865-1931)
Overture to Maskarade (FS.39)
Bergen Philharmonic Orchestra; Leif Segerstam (conductor)
05:01AM
Vivaldi, Antonio (1678-1741)
Nulla in mundo pax sincera for soprano and orchestra (RV.630)
Emma Kirkby (soprano), Academy of Ancient Music, Andrew Manze (director)
05:08AM
Dutilleux, Henri (b. 1916)
Sonatine
Duo Nanashi
05:17AM
Ravel, Maurice (1875-1937)
Bolero
Sydney Symphony Orchestra, Stuart Challender (conductor)
05:32AM
Ponce, Manuel Maria (1882-1948)
Preludes Nos. 1, 2, 7, 8, 9, 10, 11
Heiki Mätlik (guitar)
05:40AM
Respighi, Ottorino (1879-1936)
Poema autunnale for violin & orchestra
Viktor Simcisko (violin), Slovak Radio Symphony Orchestra, Onrej Lenard (conductor)
05:55AM
Haydn, Joseph (1732-1809)
Symphony No. 43 in E flat major "Mercury" (H. 1/43)
Hungarian Radio Symphony Orchestra, Balazs Kocsar (conductor)
06:17AM
Kozeluch, Leopold (1747-1818)
Sonata for keyboard (P.13.2) in F major "La chasse" [1781]
Gert Oost (organ)
06:35AM
Verdi, Giuseppe (1813-1901)
Quartet for strings in E minor
Vertavo Quartet.