Main content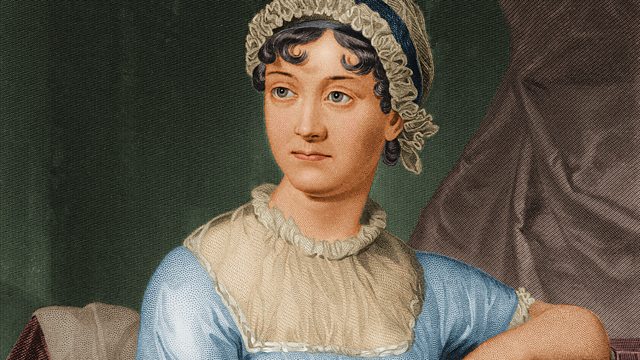 12/04/2010
With Jane Garvey. Winchester Cathedral mounts a new permanent exhibition to celebrate Jane Austen at the start of her bicentenary decade. Graduate internships.
Woman's Hour presented by Jane Garvey.
As Jane Austen's bicentenary decade begins, a new permanent exhibition celebrating her life opened on Saturday at Winchester Cathedral. Next year marks the 200th anniversary of the publication of Sense and Sensibility - the first of an incredible collection of novels that have secured Jane Austen's place as one of the most prominent writers in the history of English literature. She died at the tragically young age of 41 in Winchester in 1817 and is buried in the cathedral there. Now, a permanent exhibition next to her grave will tell her life story and display Austen memorabilia that has rarely been seen until now. Charlotte Barnaville [Winchester Cathedral's Marketing Officer] , Elizabeth Proudman [Vice Chair of the Jane Austen Society], and Rebecca Vaughan (whose one-woman show Austen's Women opens at the Leicester Square Theatre London on 20th April) join Jane Garvey to discuss the life of one of Britain's best loved authors.
As students in their final year begin to prepare for their exams and the search for jobs, Woman's Hour looks at the role of Internships. Once an informal way of gaining work experience they are now seen as an essential rung on the ladder to employment. The experience can be mixed since many organisations only offer unpaid Internships leaving the Intern to juggle part-time jobs to pay living expenses and travel. Unequal access is also an issue where those with friends or family connections or parents wealthy enough to support them are at an advantage. Jane Garvey hears the experience of a student who did two unpaid Internships, and speaks to Gus Baker from InternAware, Heather Collier Director of the National Council for Work Experience and Anne Minto OBE, HR Director of Centrica who works closely with the CBI's Education Task Force to plug gaps between higher education and work
Younee is a classically trained pianist from Seoul, South Korea, whose eclectic style encompasses jazz, rock and pop. She began playing the piano at the age of three in her kindergarten, and initially found composing songs a welcome relief from the strict regime of study imposed by her parents. She spent the next 20 years perfecting her classical performance in music academies, but the desire to experiment led her to explore classical improvisation, and pop and jazz songwriting. Her debut Western album, 'True to You', was created via Skype with the legendary London-based producer/composer Richard Niles. Younee joins Jane for a live classical performance - with a twist.
And in a follow up to the Woman's Hour Bank Holiday special on Home and what it means to you we hear some of your views.
Chapters
Internships

Are they access to employment or exploitation? Jane hears from Guy Baker from InternAware; Heather Collier, National Council for Work Experience and Anne Minto, HR Director of Centrica.

Duration: 15:30

Younee

The South Korean virtuoso pianist from Seoul, South Korea.

Duration: 25:25

Home - Listener Feedback

Listener responses to our programme about the meaning of Home.

Duration: 05:25

Jane Austen

A celebration with Charlotte Barnaville from Winchester Cathedral, Elizabeth Proudman from Jane Austen Society, and Rebecca Vaughan who has a one-women show Austen's Women.

Duration: 12:04

Featured in...

A collection of programmes from Radio 4 referencing Jane Austen and her work.