Main content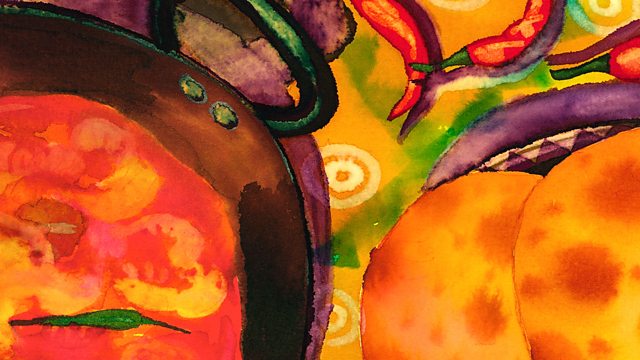 Ruby Murray: The Secret Story of Curry
Alkarim Jivani explores how curry has become intimately linked with a sense of British identity. With Madhur Jaffrey. From 2010.
The British are mad about curry - 'Ruby Murray' in Cockney rhyming slang.
Alkarim Jivani speaks to curry lovers north and south of the border to find out how curry came to be so intimately linked with the British sense of identity.
Historically, the English have been seen as distrustful of foreigners and wary of foreign food. So the nation's long love affair with curry - which is as much working class as colonial - is a surprising one. Even more curious is how this passion for curry is now recognised as part of the British identity. Vindaloo was the unofficial song of England's 1998 World Cup team - an unlikely battlecry for English football fans. In 2001, Robin Cook, then Foreign Secretary, declared that chicken tikka masala was the nation's most popular dish. Chicken tikka masala is even included by the Ministry of Defence in its operational ration packs to bring the troops some home comfort.
Contributors include:
* Madhur Jaffrey, whose enormously popular 1982 BBC TV series Madhur Jaffrey's Indian Cookery revolutionised British Indian cuisine.
* Michelin-starred chef, Atul Kochhar (Great British Menu, Saturday Kitchen), known for his masterful use of spices and Indian twist to modern British cuisine.
* Namita Panjabi, Group Director, Masala World (Veeraswamy, Chutney Mary, Amaya, and Masala Zone).
* Neil Hind at Defence Food Services, Defence Equipment and Support, Ministry of Defence (Defence Equipment and Support buys equipment and supports the UK army, navy and airforce around the world).
Producers: Catriona Oliphant / Ian Willox
Executive Producer: Simon Berthon
A Chrome Radio Production for BBC Radio 4 first broadcast in April 2010.