Main content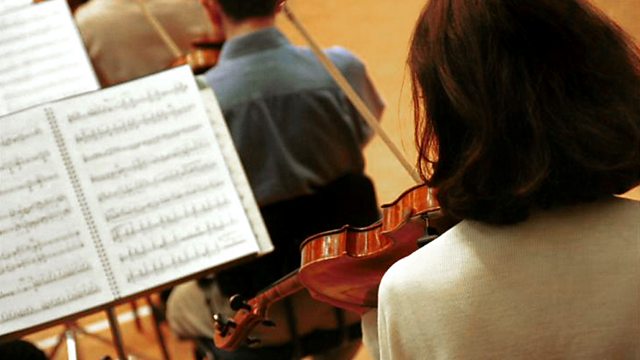 Eotvos: Angels in America
Petroc Trelawny presents the UK premiere of an operatic version of Tony Kushner's play, Angels in America. The BBC Symphony Orchestra and soloists are conducted by David Robertson.
Peter Eötvös: Angels in America (UK premiere)
Hungarian composer Peter Eötvös brings a new, operatic take on Tony Kushner's searing Pulitzer Prize-winning play Angels in America, with libretto by Mari Mezei.
The subject is America's late 20th-century nightmare: AIDS. Its admission, its concealment, its destructive power is told through a web of dreams and memories which is touched by reality as the lives of two troubled New York couples - Louis Ironson and his lover Prior Walter, and Mormon lawyer Joe Pitt and his wife Harper - become intertwined.
The focus is on passionate relationships and dramatic suspense. Eötvös's wry, dramatic music expresses tenderness and pain through contrasted short scenes of gentle parlando, operatic declamation and American mimicry. Eötvös has created a vibrant, urban sound-world of breath-taking instrumental effects and powerful vocal lines.
The BBC Symphony Orchestra is renowned for their skill at performing contemporary music, and Eötvös himself once held the post of its principal guest conductor.
Presented by Petroc Trelawny
Prior Walter David Adam Moore (baritone)
Louis Ironson Scott Scully (tenor)
Joseph Pitt Omar Ebrahim (baritone)
Mr LiesBrian Asawa (countertenor)
HannahJanice Hall (soprano)
Roy Cohn Kelly Anderson (baritone)
Harper PittJulia Migenes (mezzo-soprano)
Angel Ava Pine (soprano)
BBC Symphony Orchestra
David Robertson conductor.
Followed by a musical reflection on Mahler's Symphony No. 1 by Uri Caine and ensemble, as this week marks the start of our complete Mahler cycle broadcasts from Manchester every Monday.
Mahler: Symphony no.1, part 3 - Funeral March
Uri Caine, piano
Ralph Alessi trumpet
Chris Speed clarinet
Joyce Hamman - violin
Tim Lefebre - double bass
Zac Danziger – drums
Recorded in Bucharest by Romanian Radio, broadcast courtesy of the European Broadcasting Union