Main content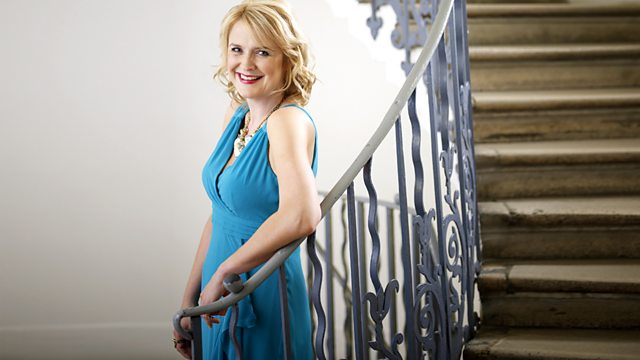 Tuesday - Sarah Walker
With Sarah Walker. Humperdinck: Hansel and Gretel (excpt). Prokofiev: Overture on Hebrew Themes. CPE Bach: Concerto No 5 in G for harpsichord. Schubert: Der Zwerg.
Classical Collection with Sarah Walker, who continues her journey through the enchanted realm of Fairy Tales, today meeting Humperdinck's Hansel and Gretel, Schubert's Erl-king and Dvorak's water-nymph Rusalka.
10.00 Humperdinck
Hansel and Gretel: conclusion of Act II
Sandman: Barbara Bonney (soprano)
Hansel: Ann Murray (mezzo-soprano)
Gretel: Edita Gruberova (soprano)
Dresden Staatskapelle
Colin Davis (conductor)
PHILIPS 438 013-2
10.11* Prokofiev
Overture on Hebrew Themes
Ensemble Walter Boeykens
HARMONIA MUNDI HMC901419
10.21* C.P.E. Bach
Concerto in G WQ 43 no 5 for harpsichord
Trevor Pinnock (harpsichord/director)
The English Concert
CRD 3411
10.34* Schubert
Der Zwerg
Thomas Quasthoff (baritone)
Charles Spencer (piano)
RCA 09026 61864 2
10.38* Schubert
Der Doppelganger
Dietrich Fischer-Dieskau (baritone)
Gerald Moore (piano)
DG 415 188 2
10.42* Schubert
Erlkonig
Bryn Terfel (baritone)
Malcolm Martineau (piano)
DG 445 294 2
10.47* Stravinsky
The Fairy's Kiss
Royal Scottish National Orchestra
Neeme Jarvi (conductor)
CHANDOS 241-8
11.33* Beethoven
Piano Sonata in C sharp minor op 27 no 2 "Moonlight" Vladimir Ashkenazy (piano) DECCA 410 260 2
11.50* Dvorak
O Silver Moon (Rusalka)
Renee Fleming (soprano)
London Symphony Orchestra
Georg Solti (conductor)
DECCA 455 760 2.