Main content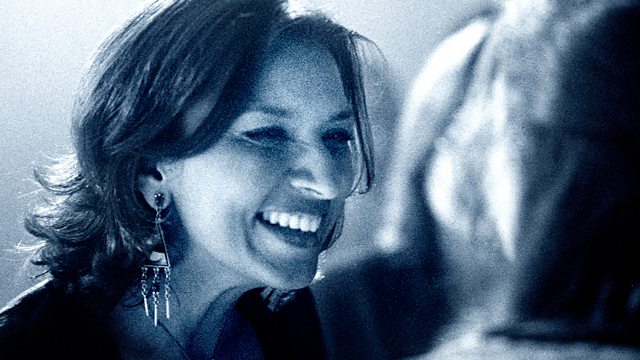 Lopa Kothari
Lopa Kothari presents a selection of music from around the world, including a session of Cajun music from Swiss trio Mama Rosin.
In session tonight, the Swiss trio Mama Rosin who have brought the original sound of Louisana to the banks of Lake Geneva. Lopa Kothari introduces the group and plays sounds from around the world. Producer James Parkin.
Mama Rosin, the Swiss Cajun/Zydeco subversives play electric melodeon (Cyril Yeterian), guitar/banjo/rub-board (Robin Girod) and drums (Xavier "Gérard Guilain" Bray). They live and love the Cajun/Zydeco music style, whose roots go way back to the 18th century. The adventures of Mama Rosin began with a demo-tape recorded and mixed by Pierre Omer (ex-The Dead Brothers). Swamped by this intriguing sound "Reverend Beat-Man" decided to sign the trio to his cult Voodoo Rhythm Records label. The resulting debut album, Tu As Perdu Ton Chemin came out in September 2008. The second album, Brule Lentement, followed in March 2009 (both on Voodoo Rhythm Records). Now, these two albums are released in the UK in March 2010, (on Voodoo Rhythm Records / distributed by Cargo UK).
World on 3
Presented by Lopa Kothari
Produced by James Parkin
Tel 020 7765 4661
Fax 020 7765 5052
e-mail worldon3@bbc.co.uk
Friday 2nd April 2010
Chika F. Charles: Ibi Awo Iyi
The Professional Seagulls Dance band of Port Harcourt
Album: Nigeria Special: Volume 2 modern highlife, Afro Sounds & Nigerian Blues 1970-6
Soundway SNDWCD020
Balogh Jozsef/Biro Szabolcs/Keleti Andras/Jutasi Tamas: Kotyka
Goulasch Exotica, Ft. EtnoRom
Album: Balkan Grooves
Eastblok Music EBM016
Pinhas Cohen: Zine Li Atak Allah
Faudel
Album: Bled Memory
Mercury records 532 448 0
Studio Session
Mama Rosin
Cyril Yeterian (melodeon)
Robin Girod (guitar/banjo/rub-board)
Xavier Bray (drums)
J'arrive pas a dormer
Mama Rosin
BBC Recording by sound engineers Martin Appleby and Steve Bittlestone at Maida Vale
Les Secrets d'evangeline
Mama Rosin
BBC Recording by sound engineers Martin Appleby and Steve Bittlestone at Maida Vale
Que Paso
Anibal Velasquez y su Conjunto
Album: Mambo Loco
Analog Africa AALP067
On Veut du Soleil
Lokua Kanza
Album: Nkolo
World Village WVF479043
Sanchez: Quisiera pero
Amparo Sanchez
Album: Tucson-Habana
Wrasse Records WRASS257
Sebastian Rochford: Peepers
Polar Bear
Album: Peepers
Leaf Records BAY74CDP
Beatrice Martin/David Brunet: Le Long du Large
Coeur de Pirate
Album: Coeur de Pirate
Blue Wrasse 5316706
Studio Session
La Valse Criminelle
Mama Rosin
BBC Recording by sound engineers Martin Appleby and Steve Bittlestone at Maida Vale
Le Pistolet
Mama Rosin
BBC Recording by sound engineers Martin Appleby and Steve Bittlestone at Maida Vale
Bon temps roulette
Mama Rosin
BBC Recording by sound engineers Martin Appleby and Steve Bittlestone at Maida Vale
Idria Rahman/Robin Hopcraft: Hard Times Dub
Soothsayers, mixed by Manasseh
Album: Red Earth Dub
Red Earth records REDECD007
Chaudhuri: Dotora (4:20)
Amit Chaudhuri
Album: This is not Fusion
Times Music BVOR2984
Anon, Arr. Boksasp: Sulla Lulla
Unni Boksasp
Album: Songar fra Hardal
Ta:lik Ta42CD
Gammal
Ali Hassan Kuban & Salwa Abou Greisha
Album: Egypt Noir –Nubian Soul Treasures
Piranha CD-PIR2237
Trad, Arr. Astatke: Tezeta
Mulatu Astatke
Album: New York – Addis – London, The story of Ethio Jazz 1965-1975
Strut Records STRUT051CD
Seven pioneering figures in world music
BBC Introducing on World on 3