Main content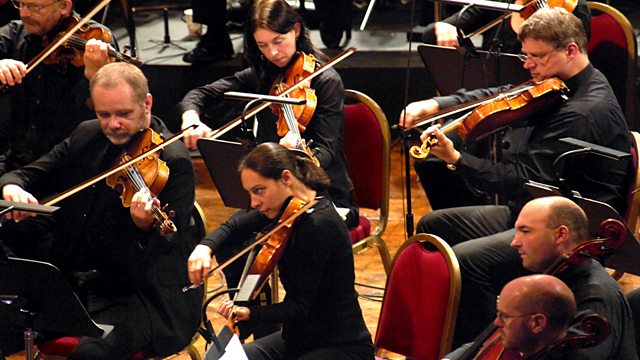 Jonathan Swain presents a series celebrating the BBC Philharmonic. Chopin: Grande valse brillante, Op 18. Haydn: Symphony No 102. Plus Dvorak, Bartok, Britten and Copland.
Louise Fryer presents a week celebrating the BBC Philharmonic's 75th birthday season with some of their best performances from the last year. Highlights include the BBC's Manchester-based orchestra in Haydn Symphonies and Bartok Concertos, with many of the artists most closely associated with the orchestra - including Principal Conductor Gianandrea Noseda, composer/conductor H K Gruber, pianist Jean-Efflam Bavouzet and Chief Guest Conductor Vassily Sinaisky.
Chopin orch. Stravinsky: Grande Valse Brillante Op. 18
BBC Philharmonic
Vassily Sinaisky (conductor)
Haydn: Symphony no. 102 in B flat
BBC Philharmonic
Nicholas Kraemer (conductor)
2.30pm
Dvorak: Cello Concerto in B minor
Alban Gerhardt (cello)
BBC Philharmonic
Pablo Heras-Casado (conductor)
Bartok: Piano Concerto no. 1
Jean-Efflam Bavouzet (piano)
BBC Philharmonic Orchestra
Gianandrea Noseda (conductor)
3.55pm
Britten: Nocturne
Ian Bostridge (tenor)
BBC Philharmonic
Yutaka Sado (conductor)
Copland: Appalachian Spring - ballet
BBC Philharmonic
Richard Davis (conductor).