Main content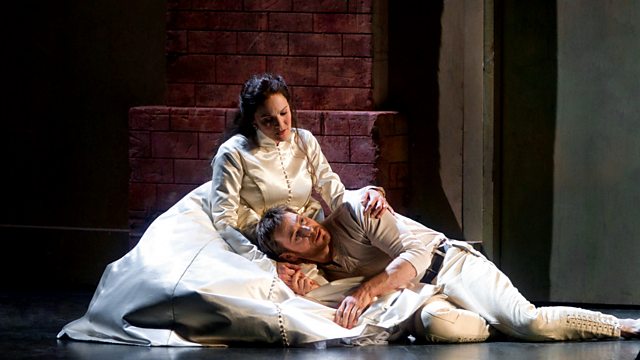 Ambroise Thomas' Hamlet
Live from the Metropolitan Opera, New York, Louis Longree conducts a 19th-century Romantic version of Shakespeare's tragedy. With baritone Simon Keenlyside.
A singer known for depth of his performances leads the cast in Ambroise Thomas' Hamlet, live from the Metropolitan Opera, New York. It's a 19th century romantic interpretation of Shakespeare's tragedy, originally with a happy ending, but this was subsequently changed to reflect the play a little more closely. Simon Keenlyside is the tormented Prince seeking vengeance for his father's death, in one of the few chances for a baritone to play the lead role. Marlis Petersen is his ill-fated love, Ophelia, to whom Thomas gives an extended and truly memorable mad scene.
Presented by Margaret Juntwait with Ira Siff as guest commentator. Live backstage interviews during the interval.
Hamlet: Simon Keenlyside (baritone)
Ophelia: Marlis Petersen (soprano)
Laertes: Toby Spence (tenor)
Gertrude: Jennifer Larmore (mezzo-soprano)
Claudius: James Morris (baritone)
The Ghost: David Pittsinger (bass)
Horatio: Liam Bonner(baritone)
Polonius: Maxim Mikhailov (bass)
First Gravedigger: Richard Bernstein (Bass)
Second Gravedigger: Mark Schowalter (tenor)
Louis Langrée (conductor)
Metropolitan Opera Chorus and Orchestra.