Main content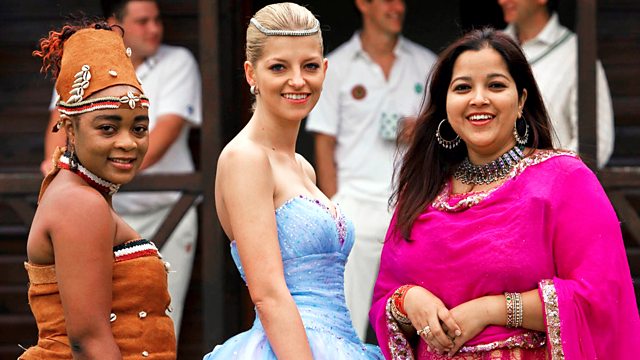 Three single princesses come to the UK to find a Prince Charming. Princess Sheillah falls in love, but she must now return to life as a princess and leave her loved one behind.
Three single princesses from around the world come to the UK to find Prince Charming to take back to their kingdom. To ensure the people they meet love them for themselves and not just their title, the princesses go undercover as everyday girls, living together in a house in Essex.
Without their riches and servants, it is the first time they have ever had to fend for themselves. They take on ordinary jobs in a hairdressing salon, cafe and cricket shop. And in their search for the perfect, ordinary man, they trawl the pubs, clubs and supermarkets of Essex for 'the one'.
Her Royal Highness Princess Xenia of Saxony is a descendant of one of the most powerful royal families Europe has ever known. At 22, she is a well-known celebrity in Germany, but a combination of her beauty, fame and royalty has made it difficult for her to find true love.
Her Highness Princess Aaliya of Balasinor's ancestors were ancient warriors who ruled in western India for centuries. The 35-year-old Princess has had a traditional and sheltered upbringing within a family where marriages are usually arranged. She has never been on a date before, and never had a boyfriend.
Princess Nvannungi Sheillah is from Buganda, the largest and most powerful kingdom in Uganda, presiding over five and a half million subjects. The princess is one of the most famous women in her country and has a career as a pop star.
The princesses will finally reveal their true identities to their chosen partners, but first they have to find them and time is running out. Man magnet Princess Xenia is spoilt for choice and has a dilemma about which one to pick. Having failed to find any successful dates in Essex, will Princess Aaliya find anyone to invite back to her kingdom? Against all odds, Princess Sheillah falls head over heels in love, but she must now return to life as a princess and leave her new love behind.
Clips

Chapters
Timings (where shown) are from the start of the programme in hours and minutes
The Princesses

A recap of the princesses' aim to find their prince in just three weeks and a look at their progress so far.

Duration: 04:34

Cindrellah's Two Dates in One Day

Princess Sheillah, AKA Cindrellah, goes on two dates with Paul, with the second one ending at 5am. Also, a look at Cindrellah's regal life back home. Gaby helps Aaliyah try and find a date online.

Duration: 07:19

Gaby and Elliot

Princess Xenia, AKA Gaby, accompanies Elliot to the zoo on another date, but is it friendship or something more? With three days left and no dates, the girls decide Aaliyah should go speed dating.

Duration: 06:22

Speed Dating

Cindrellah and Aaliyah go speed dating in order to find Aaliyah her first date. Elsewhere, Gaby finds another potential suitor in the form of Reece, which leaves her with a dilemma.

Duration: 05:49

Paul's Birthday in Southend

Cindrellah and Paul tell each other how they feel on their weekend away, while Aaliyah goes on a blind date in London. Meanwhile, Gaby's decision is made harder after a successful date with Reece.

Duration: 09:35

Aaliyah's Second Date and the Princesses' Final Night

Aaliyah goes out for a second time with her blind date, Mark, although it doesn't go as well as she had hoped. Gaby goes on another date with Elliot – has she decided which boy to take home?

Duration: 07:16

The Princesses Reveal Themselves

Aaliyah, Gaby and Cindrellah must reveal who they really are to their chosen partners – will Aaliyah manage to meet up with Mark? And will it be Reece or Elliot who wins over Gaby's affection?

Duration: 11:05

The Princesses Return Home

The three princesses reflect on their time with each other and Aaliyah bids a tearful farewell to Paul, who comes to see her off in person.

Duration: 05:31

Credits

| Role | Contributor |
| --- | --- |
| Narrator | Russell Tovey |
| Executive Producer | Adam Adler |
| Producer | Anoushka Roberts |