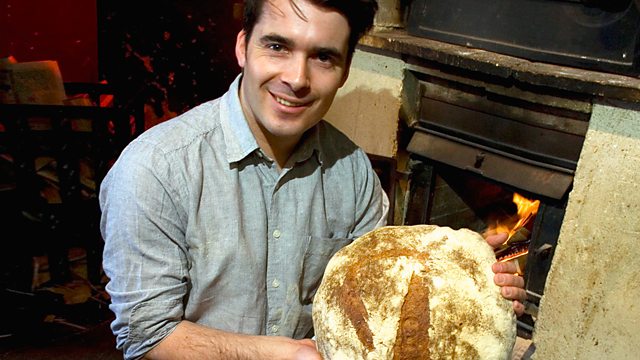 In Search of the Perfect Loaf
Documentary which follows award-winning artisan baker Tom Herbert in his search to bake a loaf that will win him first prize at the National Organic Food Awards.
Tom Herbert's family have been baking bread in the Cotswolds for five generations. Tom started baking with his father and grandfather and at 16 began his formal apprenticeship. Fresh out of college, he won Young Baker of the Year and now, at 32, Tom continues to win awards for the family firm, Hobbs House Bakery.
Tom is passionate about handmade bread and critical of what he describes as the 'plastic-wrapped pap' of the mass-produced bread market. However, given that sales of handmade bread only account for 2 per cent of the market, Tom has his work cut out if he is to convert more people to the joys of handmade bread.
Tom's quest to make the perfect loaf takes him to Cornwall to meet archaeologist Jacquie Wood, to learn how our ancestors might have baked bread. At the medieval water mill at Stanway House in Gloucestershire he meets Professor Brian Reuben, a leading authority on the history of bread, and he visits Brackman's Jewish bakery in Salford run by third generation baker, Andrew Adelman. Here, Tom learns how to make the specialist Jewish bread challah and meets the rabbi who, on his daily inspection of the baking methods and ingredients, ensures that they conform to Jewish religious law.
Tom's journey helps him to come up with what he hopes will be a competition-winning loaf for the National Organic Food Awards - a huge two-kilo, white, spelt, sourdough loaf made using his family's 40-year-old sourdough, organic spelt from Somerset, Cornish sea salt and Cotswold water from a local spring. Tom names it 'The Shepherd's Loaf'. But while it's his perfect loaf, will the judges agree?
Credits
| Role | Contributor |
| --- | --- |
| Director | Duncan Staff |
| Producer | Wendy McLean |