Main content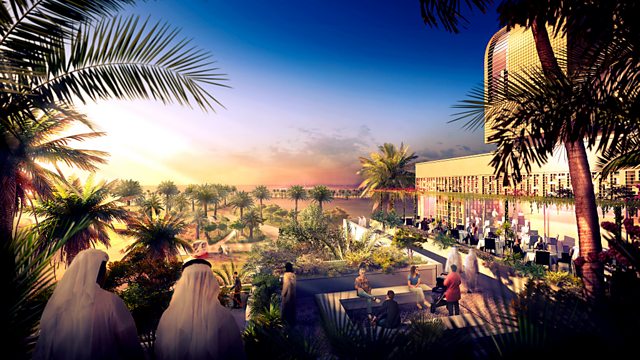 Eco-City Limits
Masdar in Abu Dubai could be the world's first eco-city. Tom Heap finds out whether the oil money that funds it means a fast building success or a green dream smokescreen.
Eco-cities. Architects, developers and visionaries have been promising them for the past decade. Dongtan was supposed to be the green Shanghai, the Thames corridor was supposed to be a linear eco-city, Florida's building a car-free city for 100,000, eco towns were to spread around the UK. But time and time again economic reality intrudes, plans are shelved or diluted and another commuter suburb is thrown up with a token wind turbine.
The answers might be found at the World Future Energy Summit in the extraordinary setting of Masdar City in Abu Dhabi. $20bn has been committed by the government to ensure this city is the first zero carbon conurbation. With the money made supplying the world's fossil fuel the Abu Dhabi emirate has employed Norman Foster to create the anti-Dubai- a car and skyscraper-free city powered by the sun. If anyone can do it then the cash-rich, democracy-free, hugely ambitious rulers of Abu Dhabi are the men to back. Progress is rapid with students already attending the Masdar Institute of Science and Technology with its focus on renewable energy and the International Renewable Energy Agency (IRENA) making its home as the first international agency to be located in the Middle East.
With the great and good of the sustainability movement gathered together in Masdar City in early 2010 it's a perfect opportunity to test the concept- a real model for the cities of the future or a green smokescreen for the oil states' carbon- hungry habits.
What has happened to the world's coral?