Main content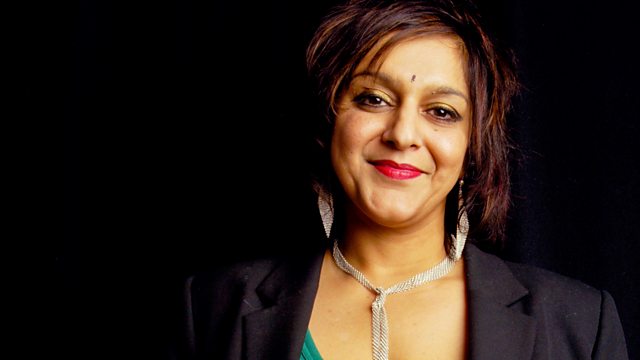 31/03/2010
Jenni Murray talks to Meera Syal about her new role in Shirley Valentine; crime writer Donna Leon, pension reform; two for the price of one? The changing role of the MP's spouse.
Jenni Murray talks to Meera Syal about her new role in Shirley Valentine. Meera rose to prominence in 'Goodness Gracious Me', the BBC1 sketch show which she also helped create. She was also 'Ammi', the outspoken granny in The Kumars at No 42. Now Meera is starring as Shirley Valentine at the Menier Chocolate Factory and joins Jenni Murray to talk about the challenges of performing a one woman show.
Two for the price of one - that's politicians and their wives. With television interviews and newspaper columns devoted to the wives of the party leaders, how important are political partners in winning votes? And, regardless of their own achievements, are political wives expected to take a supportive public role? Jenni talks to Elizabeth Day, who writes for the Observer, Alicia Collinson, a barrister who is married to Damian Green MP, Shadow Minister for Immigration and David Cowling, Editor of BBC Political Resaerch.
It is estimated that only around fifty percent of women currently retiring have built up an entitlement to a full basic state pension in their own right, compared with 90 per cent of men. To be entitled to a full state pension women currently need 39 'qualifying years' but from next week, the rules are changing in a bid to make a fairer and more widely available system. To discuss the changes, Jenni is joined by Sally West from Age Concern and Help the Aged, and Des Hamilton from the Pensions Advisory Service.
Most literary detectives seem to survive on a diet of whisky, fast food and loneliness. Not so Commissario Brunetti, the hero of Donna Leon's best-selling series set in Venice. Brunetti goes home for extended lunches with his family, and interviews suspects over delicious bar snacks. Now Donna Leon has collected some of the Commissario's favourite recipes in a book and she joins Jenni to discuss her detective and his food.
Chapters
Politicians' Wives: How important are they in winning votes?

Jenni Murray talks to David Cowling, Elizabeth Day and Alicia Collinson.

Duration: 13:47

Meera Syal: on playing Shirley Valentine

Jenni Murray talks to Meera Syal re: playing Shirley Valentine.

Duration: 10:23

State Pension Reform

Jenni Murray talks to Sally West and Des Hamilton.

Duration: 09:43

Donna Leon

Jenni Murray talks to crime writer, Donna Leon.

Duration: 08:08