Main content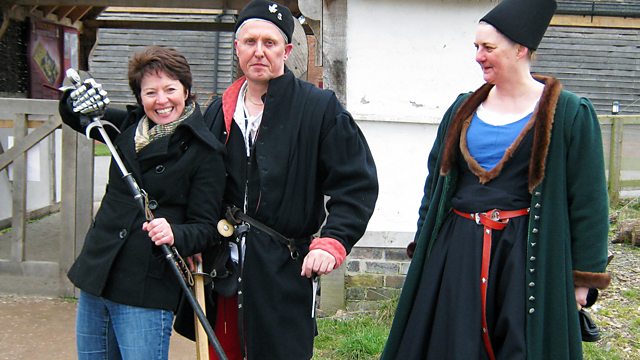 Bosworth Field
Helen Mark talks to actor Robert Hardy about the recently discovered true location of the Battle of Bosworth in Leicestershire. What will it mean for the town and region?
OPEN COUNTRY - BOSWORTH FIELD
The Battle of Bosworth was the decisive battle of the Wars of the Roses, a long and bloody conflict which ended when Richard III became the last king of England to die on the battlefield signalling the end of Plantagenet rule and the birth of the Tudor dynasty. According to 'history', the Battle of Bosworth was thought to have taken place around the site of Ambion Hill near Market Bosworth in Leicestershire. Yet for years controversy has raged over the precise location of the battle and recently the search for the exact location culminated in the discovery of 'extraordinary and unexpected' evidence. So where actually was the Battle of Bosworth and what it it mean for the town and region ?We hear the story of the battle and talks to the people who have spent years investigating the various theories and scouring the countryside around Ambion Hill to pinpoint the exact location of the battle and of Richard's death. She meets actor Robert Hardy, Patron of the Richard III Foundation, who feels that Richard was the innocent victim of Tudor spin. Robert has published several books on medieval warfare and social & military history and has himself walked the various possible sites of the battle during the course of the investigation.
Glenn Foard, Project Officer for the Battlefields Trust, takes Helen to an unremarkable field on farmland in Leicestershire, but one which yielded the most incredible and conclusive evidence yet to pinpoint it as the exact site of the battle. Helen hears from the farmer who owns the field about what it means to him to own this piece of land where the scale of the find is said to transform the significance of Bosworth to a battle of international importance.
Helen also joins the people from the Wars of the Roses Federation for a lesson in medieval warfare and hears about their regular battle reenactments. Will they move their battle too? And how will this discovery change the perception of the battle for the people who visit the Bosworth Battlefield Centre on Ambion Hill?
Last on
Broadcasts

Featured in...
Art of Monarchy - Friend or Foe - Highlights from the Radio 4 collections
Podcast
Countryside magazine featuring the people and wildlife that shape the landscape of Britain