Main content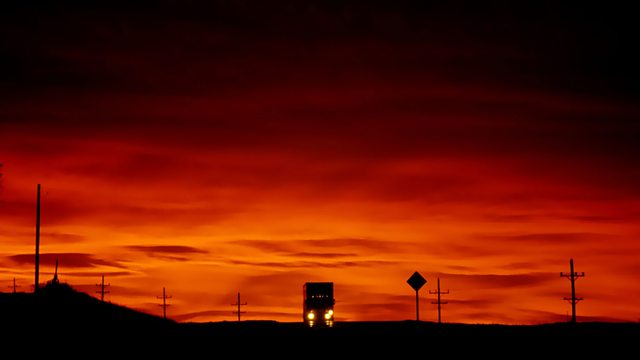 24/03/2010
John Shea presents music by Debussy, Strauss, Daniel-Lesur, Zemlinsky, Schoenberg, Mahler, Carmichael, Chopin, Kisielewski, Grieg, Beethoven, Brahms, Marais, Dittersdorf, Carniolus.
John Shea presents rarities, archive and concert recordings from Europe's leading broadcasters
01:01AM
Guiot de Dijon [fl.1215-1225] & Tobie Miller (estampie)
Chanterai por mon coriage & Estampie
01:11AM
Anonymous & Tobie Miller (estampie)
Amis, quelx est li mieuz vaillanz (jeu parti) and estampie on Chascuns dit que je foloi by Tobie Miller (group instrumental)
La Rota
01:20AM
Debussy, Claude (1862-1918) orch. Brewaeys, Luc (b.1959)
No.12 Minstrels
No.7 Ce qu'a vu le vent d'ouest - both from Preludes Book I
Royal Flemish Philharmonic, Daniele Callegari (conductor)
01:26AM
Strauss, Richard [1864-1949]
Variations on "Deandl is arb auf mi'" for string trio
Leopold String Trio
01:33AM
Philippe de Vitry [(1291-1361)] & Anonymous (estampie)
Aman novi/Heu, Fortuna Subdola & retrove (estampie)
01:40AM
Philippe de Vitry [(1291-1361)]
Tribum que/ Quoniam secta/ Merito hec patimur
01:44AM
Anonymous & Jehan de Lescurel fl.1304
2 anonymous pieces and a rondeau by Jehan de Lescurel
La Rota
01:54AM
Debussy, Claude (1862-1918) orch. Brewaeys, Luc (b.1959)
No.8 La fille aux cheveux de lin
No.3 La Puerta del Vino - both from Preludes Book II
Royal Flemish Philharmonic, Daniele Callegari (conductor)
02:00AM
Daniel-Lesur, Jean Yves (1908-2002)
Suite Mediévale for flute, harp and string trio (1946)
Arpea Ensemble
02:14AM
Anonymous
Estampie and Prendes i garde, s'on mi regarde
02:22AM
Blondel de Nesle [fl. 1180-1200]
A l'entrant d'este
02:31AM
Landini, Francesco [1325-2/9/1397]
Adie, adieu
02:33AM
Anonymous & Tobie Miller (satlarello)
Allegro canto; Laudario di Firenze; Saltarello del Grande San Domenico
02:36AM
Anonymous
Non sofre Santa Maria
La Rota
02:40AM
Respighi, Ottorino (1879-1936)
Ancient airs and dances for lute - suite No.3 for strings [1932]
I Cameristi Italiani
03:01AM
Zemlinsky, Alexander (1871-1942)
The Little mermaid
Royal Concertgebouw Orchestra, Riccardo Chailly (conductor)
03:43AM
Schoenberg, Arnold (1874-1951)
Verklärte Nacht (Op.4)
Borromeo String Quartet
04:11AM
Waldsonne (Op.2 No.4)
Arleen Auger (soprano), Irwin Gage (piano)
04:15AM
Mahler, Gustav (1860-1911)
Ich ging mit lust durch einen grünen Wald
Arleen Auger (soprano), Irwin Gage (piano)
04:20AM
Carmichael, John (b.1930) arr. Hurst, Michael
A Country Fair arr. Hurst for orchestra
Jack Harrison (clarinet), West Australian Symphony Orchestra, Richard Mills (conductor)
04:29AM
Schmelzer, Johann Heinrich (c.1620-1680)
Suite no.2 in D major
Elizabeth Wallfisch (baroque violin), Rosanne Hunt (cello), Linda Kent (harpsichord)
04:36AM
Förster, Kaspar (1616-1673)
Sonata a 3 in B flat major (KBPJ 39)
Il Tempo Baroque Ensemble
04:42AM
Chopin, Fryderyk (1810-1849) arr. Kocsis, Zoltán (b.1952)
Mazurka (Op.67 No.2) in G minor
Mazurka (Op.63 No.3) in C sharp minor
Zsolt Szatmári (clarinet); Zoltán Kocsis (piano)
04:47AM
Kisielewski, Stefan (1911-1991)
Suite from the ballet 'Fun Fair'
Polish Radio National Symphony Orchestra in Katowice, Michal Nesterowicz (conductor)
05:01AM
Grieg, Edvard (1843-1907)
Symphonic dance no.2 (Allegro grazioso) (Op.64 No.2)
Norwegian Radio Orchestra, Ingar Bergby (conductor)
05:07AM
Beethoven, Ludwig van (1770-1827)
Wellingtons Sieg (Op.91) 'Battle Symphony'
Octophoros (wind group), Paul Dombrecht (conductor)
05:22AM
Brahms, Johannes (1833-1897)
Gestillte Sehnsucht for alto, viola and piano (Op 91 No.1)
Marianne Beate Kielland (mezzo), Morten Carlsen (viola), Sergej Osadchuk (piano)
05:29AM
Quantz, Johann Joachim (1697-1773)
Trio Sonata in E flat major
Atrium Musicium Chamber Ensemble
05:37AM
Marais, Marin (1656-1728)
Les Folies d'Espagne
Lise Daoust (flute)
05:47AM
Albéniz, Isaac (1860-1909)
Córdoba (Op.232 No.4)
Henry-David Varema (cello), Heiki Mätlik (guitar)
05:54AM
Daquin, Louis-Claude (1694-1772)
Rondeau - La mélodieuse
Rondeau - Le Coucou
Colin Tilney (harpsichord)
06:00AM
Dittersdorf, Carl Ditters von (1739-1799)
Concerto for keyboard and strings in A major (1779)
Linda Nicholson (fortepiano) Florilegium Collinda
06:18AM
Wolf, Hugo (1860-1903)
Intermezzo for string quartet in E flat major (1886)
Ljubljana String Quartet
06:29AM
Carniolus, Jacobus Gallus (1550-1591)
Virgines prudentes a 8 (OM 4/30) & O beata Trinitas, te invocamus a 8 (OM 3/3)
Musica noster amor a 6 (M 28)
Dulces exuviae (M 43) & Libertas animi cibus est (HM 31)
Ljubljanski madrigalisti, Matja? ?ček (director)
06:40AM
Grieg, Edvard (1843-1907)
Holberg Suite (Op.40)
The Slovenian Philharmonic String Chamber Orchestra, Andrej Petrač (Artistic leader).