Main content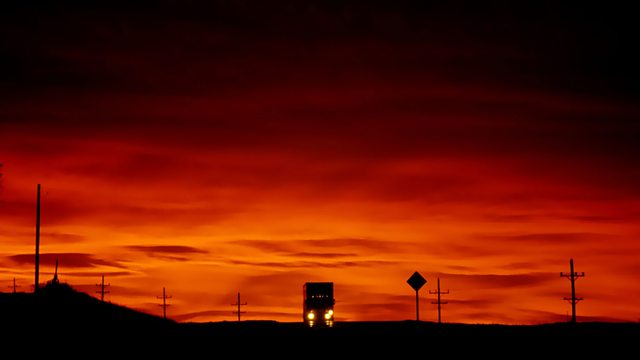 19/03/2010
John Shea presents music by Mussorgsky, Dvorak, Bach, Tchaikovsky, Verdi, Mozart, Strauss, Marais, Zelenka, Rosenmuller, Wanski, Rameau, Rheinberger, Arnic, Lassus and Gabrieli.
John Shea presents rarities, archive and concert recordings from Europe's leading broadcasters
01:01AM
Mussorgsky, Modest (1839-1881) rev & orch Rimsky-Korsakov, Nikolay (1844-1908)
A Night on the Bare Mountain
Luxembourg Philharmonic Orchestra, Lionel Bringuier (conductor)
01:13AM
Dvorák, Antonín (1841-1904)
Cello Concerto in B minor (Op.104)
Xavier Phillips, (cello), Luxembourg Philharmonic Orchestra, Lionel Bringuier (conductor)
01:53AM
Bach, Johann Sebastian (1685-1750)
Sarabande - from Suite No. 2 in D minor (BWV.1008)
Xavier Phillips (cello)
01:58AM
Bach, Johann Sebastian (1685-1750)
Gloria in Excelsis Deo (BWV.191)
Ann Monoyios (soprano), Colin Ainsworth (tenor), Tafelmusik Chamber Choir, Tafelmusik Baroque Orchestra, Ivars Taurins (conductor)
02:13AM
Tchaikovsky, Pyotr Il'yich (1840-1893)
Symphony No.5 in E minor (Op.64)
Luxembourg Philharmonic Orchestra, Lionel Bringuier (conductor)
03:01AM
Verdi, Giuseppe (1813-1901)
Quartet for strings in E minor
Vertavo Quartet
03:25AM
Mozart, Wolfgang Amadeus (1756-1791)
Aria: Un'aura amorosa from Così fan tutte (K.588) Act 1
Michael Schade (tenor))
03:30AM
Aria: Non più andrai from Le Nozze di Figaro
Russell Braun (baritone)
Canadian Opera Company Orchestra, Richard Bradshaw (conductor)
03:35AM
Strauss, Richard (1864-1949)
Le Bourgeois Gentilhomme - suite (Op.60)
The Norwegian Radio Orchestra, Peter Szilvay (conductor)
04:10AM
Couperin, François (1668-1733)
Rondeau - Soeur Monique
Colin Tilney (harpsichord)
04:15AM
Marais, Marin (1656-1725)
Deuxième Suite de Pieces en Trio in G minor (1692)
La Petite Bande
04:37AM
Badings, Henk (1907-1987)
Canamus, amici, canamus & Finnigan's wake
Netherlands Chamber Choir, Uwe Gronostay (conductor)
04:46AM
Reincken, Johan Adamszoon (1643(?) - 1722)
Hollandische Nachtigahl
Pieter Dirksen (organ) on Albert Kiespenning Organ c1615 at Wijk bij Duurstede, Grote Kerk, St Jan Baptistkerk
04:51AM
Zelenka, Jan Dismas (1679-1745)
1st movement from Sinfonia a 8 Concertanti in A minor (ZWV.189)
European Union Baroque Orchestra, Roy Goodman (director)
05:01AM
Enescu, George (1881-1955)
Romanian Rhapsody No.1 in A major (Op.11)
BBC Concert Orchestra, Barry Wordsworth (conductor)
05:14AM
Bartók, Béla (1881-1945) arr. Székely, Zoltán (1903-2001)
Six Romanian Folk dances (Sz.56)
Miklós Szenthelyi (violin), Zoltán Kocsis (piano
05:19AM
Couperin, Francois (1668-1733) arranged by Bartók, Béla (1881-1945)
Les Baricades misterieuses
Jan Michiels (piano)
05:22AM
Couperin, Francois (1668-1733) arranged by Bartók, Béla (1881-1945)
Le Moucheron [from Pieces de clavecin - ordre no.6]
Jan Michiels (piano)
05:24AM
Rosenmuller, Johann (c.1619-1684)
Confitebor - Psalm 110 (111)
Johanna Koslowsky (soprano), David Cordier (countertenor), Gerd Türk (tenor), Stephan Schreckenberger (bass), Carsten Lohff (organ), Cantus Cölln, Konrad Junghänel (director/lute)
05:40AM
Wanski, Jan (1762-1821)
Symphony in G major on themes from the opera 'Kmiotek' (The Peasant) (c.1786/7)
Polish Radio Symphony Orchestra, Andrzej Mysinski (conductor)
05:56AM
Rameau, Jean-Philippe (1683-1764)
Suite in G major
Yur-Eum Woodwind Quintet
06:11AM
Rheinberger, Joseph Gabriel (1839-1901)
Preludium in C minor & Canzonetta in A flat major - Nos. 1 & 3 from 13 Charakterstücke (Op.156)
Theo Jellema (organ) [Recorded at the Bergkerk, Deventer: organ made by Lambertus van Dam & Zn 1842, employing much pipework from previous organ]
06:19AM
Arnic, Bla? (1901-1970)
Suite about the well (Op.56)
Slovenian Radio and Television Symphony Orchestra, Lovrenc Arnic (conductor)
06:50AM
Passereau, Pierre (c. 1490-1547)
Il est bel et bon - from Pierre Attaingnat (Hg.), Second livre contenant XXV. chansons nouvelles à quatre parties, Paris 1536
06:51AM
Lassus, Orlande de (1532-1594)
Dessus le marché d'Arras
Bon jour mon Coeur
The King's Singers
06:54AM
Gabrieli, Giovanni (c.1553-1612)
Sonata Pian' e forte, for brass
Brass section of the Norwegian Radio Orchestra, Kjetil Haugsand (conductor).