Main content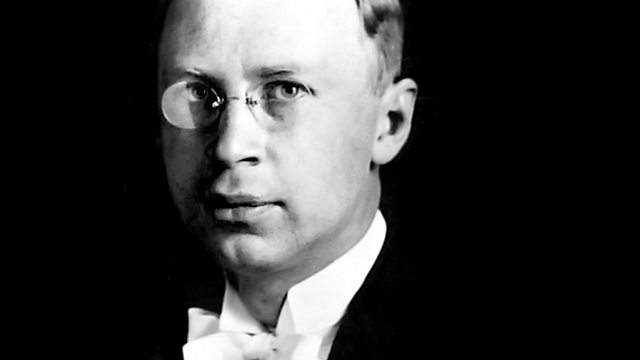 Donald Macleod explores Prokofiev's music for stage and screen, focusing on the first opera to which the composer gave an opus number and early encounters with Diaghilev.
Sergei Prokofiev was bitten early by the opera bug; when he was eight, his parents took him to see Gounod's Faust at the Bolshoi Theatre in Moscow, and it was love at first sight. On returning home, he announced that he was going to compose an opera of his own, which he promptly did - The Giant was no giant leap for mankind, but for the young Prokofiev it was the first step on a path that would wind throughout his life, culminating in his operatic masterpiece, War and Peace. That early trip to the Bolshoi also exposed the fledgling composer to Tchaikovsky's Sleeping Beauty, sparking, too, a lifelong engagement with ballet; he was putting the finishing touches to his last ballet score on his dying day. The same fascination for the interaction of sound and story lies behind his incidental music for film and theatre, the latter little-known today, but the former including classic collaborations with the pioneering Russian director Sergei Eisenstein - and, of course, Lt Kijé. So all this week, Donald Macleod explores Prokofiev's music for stage and screen, with extracts from the majority of his opera and ballet scores, and a good selection of his film and theatre music.
In Monday's programme, Maddalena, the first opera Prokofiev gave an opus number to; the Scythian Suite, which started life as Ala and Lolli, an abortive commission from Sergei Diaghilev and the Ballet Russes; The Buffoon, a Diaghilev commission that this time went full-term - 'the tale', in the composer's words, 'of the buffoon who outwits seven other buffoons'; and an operatic gamble that eventually paid off, The Gambler, which climaxes in a scene of relentless momentum, set in the frenzied atmosphere of a casino.
More episodes
Previous
You are at the first episode