Main content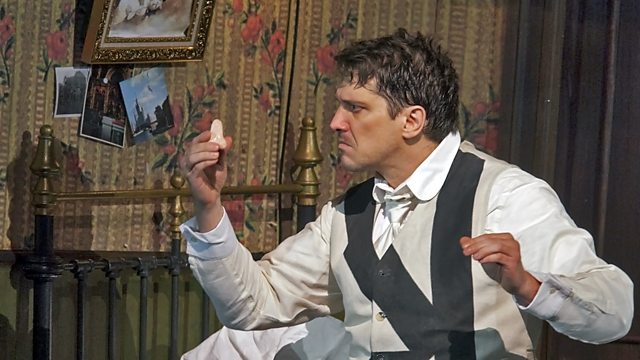 Shostakovich's The Nose
From the Metropolitan Opera, New York, Valery Gergiev conducts Shostakovich's powerful adaptation of Gogol's absurdist short story. Starring Andrei Popov and Gordon Gietz.
Kovalyov has a shave in Yakovlevich's barbershop. The following morning, Yakovlevich discovers Kovalyov's nose in his freshly baked loaf of bread, much to the annoyance of his wife who demands that he gets rid of it. He eventually manages to throw it into a river, by which time Kovalyov has noticed it's missing and begun to hunt for it. It turns up in the Cathedral, human sized, dressed as a State Councillor, and wanting nothing to do with its desperate owner. It then escapes from Kovalyov, who spends the rest of the opera being outwitted by it.
Shostakovich's adaption of Gogol's absurdist short story is performed by a stellar cast conducted by Valery Gergiev.
Presented by Margaret Juntwait with guest commentator Ira Siff.
Police Inspector: Andrei Popov (tenor)
The Nose: Gordon Gietz (tenor)
Kovalyov: Paulo Szot (baritone)
Ivan Yakovlevich: Vladimir Ognovenko (baritone)
Praskovya Osipovna: Claudia Waite (soprano)
Newspaper Clerk: James Courtney (bass)
A Mother: Maria Gavrilova (soprano)
A Countess: Wendy White (mezzo-soprano)
A Pretzel Vendor: Claudia Waite (soprano)
A Doctor: Gennady Bezzubenkov (bass)
Yaryzhkin: Adam Klein (tenor)
Mme Podtochina's daughter: Erin Morley (soprano)
Mme Podtochina: Barbara Dever ( mezzo-soprano)
Respectable lady: Kathryn Day (mezzo-soprano)
Valery Gergiev: conductor
Orchestra and Chorus of Metropolitan Opera.