Main content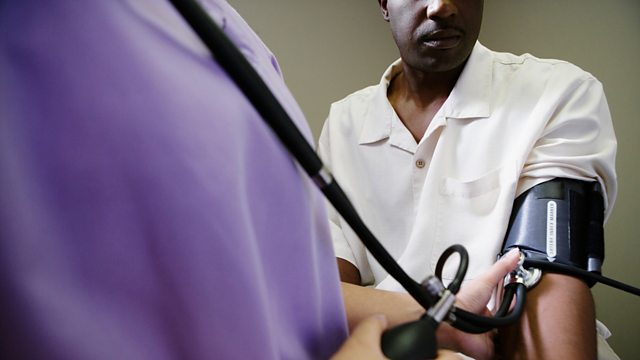 Vivienne Parry asks when a normal concern about our wellbeing turns into health anxiety or even hypochondria.
At what point does a reasonable concern about our wellbeing become an anxiety that actually affects our health? If you discover a bruise on your arm and become convinced you have leukaemia. Or you're a woman who's breast examinations are so frequent, you make them tender and then decide that the soreness means you have breast cancer. You make frequent doctor's appointments, demand unnecessary tests and never seem satisfied with a diagnosis, then it's likely you have some form of severe and persistent health anxiety.
Health anxiety in its most severe form, the diagnosis hypochondriasis, has been recognised for centuries. It's a fear or belief that real or imagined symptoms are signs of a serious illness, despite medical reassurance and other evidence to the contrary. The anxiety can take over your life, drive your family - and your GP - to distraction and can cause a great deal of distress.
But is it an illness in itself? Many psychiatrists and psychologists now prefer to describe hypochondriasis as a health anxiety. It is similar to both obsessive compulsive disorder and panic disorders. It's starting to be recognised as a serious psychological problem that can be helped with cognitive behaviour therapy.
Almost everyone has health worries from time to time, triggered by variations in their body, inexplicable physical symptoms and health information from doctors, health screening programmes and the mass media, and many people experience a moment of worry that their odd rashes, bumps or pains are signs of real trouble. But an official diagnosis of hypochondria, according to the psychiatric authorities, is reserved for patients whose fears that they have a serious disease persist for at least six months and continue even after doctors have reassured them that they are healthy.
In patients with hypochondria, ordinary discomforts are paid much more attention and appear to register more intensely than they do for other people. But where do you draw the line? When does healthy concern become a psychological problem, and what are the implications for the health industry?
With more and more people looking up symptoms and health advice on the internet, the result can be that you feel empowered and informed about your health. But for others, will they develop what is being hyped as 'cyberchondria', where every twinge and symptom is searched online, leaving them convinced that they definitely have the rarest and deadliest of diseases?
Many experts think that terms like 'cyberchondria' and the book-related 'bibliochondria' are just catchy terms concocted by the media which only exacerbate the negative stigma and cruel humour associated with hypochondria. It's a tricky issue to deal with; the patient sees physical illness, the doctor sees a psychological problem, and frustration rules on both sides of the examining room.
This programme asks how doctors assess levels of heath anxiety, how they decipher the sinister from the benign real through the imagined symptoms, and if they think increased access to health information is making the problem worse.
Last on
Broadcasts