Main content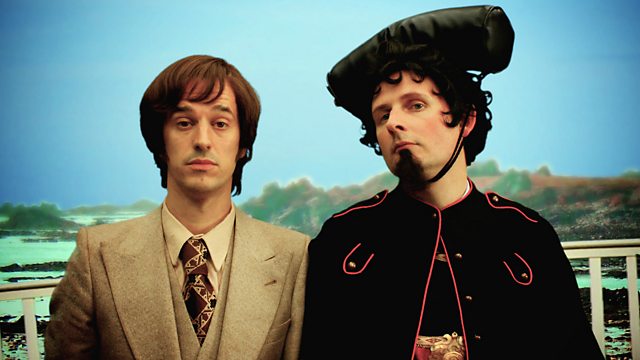 This Is Jinsy
Comedy pilot about the strange residents of Jinsy Island. Maven is agitated by a dirty spoon and is tasked with making the speech at a ceremony linking Jinsy to Old Jinsy.
Comedy pilot written by and starring Justin Chubb and Chris Bran as Maven and Sporrall - the hapless adminstrators of Jinsy Island. They watch over the residents, carrying out the instructions of the unseen but all-powerful 'Great He', dispensing punishment, propaganda and pelch to the 762 inhabitants of Jinsy.
Maven is agitated by a dirty spoon and is given the honour of making the inaugural speech at the ceremony linking Jinsy to Old Jinsy - a mythic place populated by barely civilised natives who speak in an obscure language that very few people understand. Maven tasks Sporrall with translating his speech. An unwise decision, as things turn out.
Along the way we meet a host of other islanders - local folk dribber Melody Lane, The Seagulls, Island reporter Jesric Underdone and old fishermen Jeth and Juth. They are joined by disgraced historian Letley Orridge, the rebellious Mr Cooshay and weather monk Tracee Henge.
Will Sporrall find a way to translate the speech? Will the natives of Old Jinsy give the joining ceremony their traditional welcome? And will Maven ever find a spoon clean enough to satisfy his elevated hygiene standards?
Clips

Credits
| Role | Contributor |
| --- | --- |
| Mr Cooshay | Dave Mounfield |
| Letley Orridge | Christopher Fairbank |
| Producer | Chris Carey |