Main content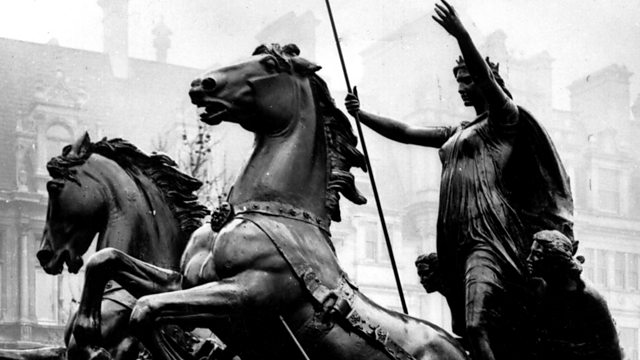 Boudica
Melvyn Bragg and guests Miranda Aldhouse-Green, Juliette Wood and Richard Hingley discuss the life and mythologisation of Boudica.
Melvyn Bragg and guests discuss the life and mythologisation of Boudica.On the eve of battle with the Roman Empire, an East Anglian leader roused her forces by declaring: 'It is not as a woman descended from noble ancestry, but as one of the people that I am avenging lost freedom'. Her name was Boudica, warrior Queen of the Iceni.In 60AD, Boudica's husband Prasutagus died and Roman troops tried to incorporate his lands into their Empire. Soldiers publicly flogged Boudica and raped her daughters. In retaliation, she led an army of tribesmen and sacked Camulodunum, modern day Colchester, before marching on London. Such was the ferocity of Boudica's attack that she came close to driving the Roman Imperial power out of Britain before she was finally defeated.Boudica was largely forgotten in the Middle Ages, but her image reappeared during the rule of Elizabeth I as a striking symbol of female power and heroism, before being denigrated by Elizabeth's heir, James I. In Victorian Britain, Boudica once again emerged, this time as a symbol of British Imperial power. The challenger to the Roman Empire had been transformed into the icon of the British Empire and to this day her statue stands guard outside the Houses of Parliament.With Juliette Wood, Associate Lecturer in Folklore at Cardiff University; Richard Hingley, Professor of Roman Archaeology at Durham University; and Miranda Aldhouse-Green, Professor of Archaeology in the School of History and Archaeology at Cardiff University.
Last on
Broadcasts

Featured in...
Browse the Ancient Rome era within the In Our Time archive.

Historical themes, events and key individuals from Akhenaten to Xenophon.