Main content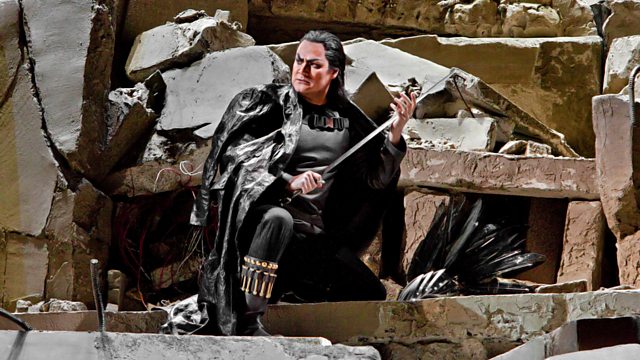 Verdi's Attila
Conductor Riccardo Muti makes his Metropolitan Opera debut with Ildar Abdrazakov in the demanding title role of a rarely performed early Verdi opera.
Well-known as a champion of Verdi's early works, the conductor Riccardo Muti makes his long-awaited Met debut with this remarkable opera, Attila, which is being performed for the first time at the Metropolitan Opera. The story of Attila explores a pivotal moment in history - the collapse of the Roman Empire under attacks from the 'barbarians' led by Attila. The demanding title role is sung here by the young Russian bass Ildar Abrazakov. Attila is a ruthless but honourable leader who falls in love with one of his conquests, the Italian slave Odabella, sung by the soprano Violeta Urmana. She, in turn, seeks revenge on Attila because he killed her father. The tenor Ramón Vargas is her lover, Foresto, who rallies the defeated Italian people and Carlos Alvarez is the General Ezio, a brilliant but corrupt soldier. Veteran bass Samuel Ramey, himself a spectacular Attila in the 1970s and 80s, makes a cameo appearance as Leone (Pope Leo 1). One of the opera's most stirring moments is the historical scene between Attila and the Pope (who convinced the invader to spare Rome). It is a fascinating story of the clash of religions, politics and love with a score full of the youthful vitality and magnificent spirit of the 33-year old musical genius.
Presented by Margaret Juntwait with guest commentator Ira Siff. There will be live backstage interviews with members of the cast during the interval.
Attila: Ilda Abrazakov (bass)
Odabella: Violeta Urmana (soprano)
Ezio: Giovanni Meoni (baritone)
Foresto: Ramón Vargas (tenor)
Uldino: Russell Thomas (tenor)
Leone: Samuel Ramey (bass)
Metropolitan Opera Chorus and Orchestra
Riccardo Muti (conductor).