Main content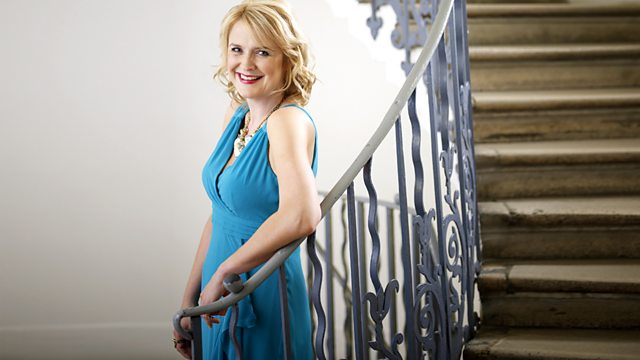 Tuesday - Sarah Walker
With Sarah Walker. Ives: Variations on America. Buxtehude: The Last Judgement (excerpt). Liszt: Hungarian Rhapsody No 2. Shostakovich: Preludes and Fugues, Op 87 (excerpts).
Classical Collection
with Sarah Walker
This week's theme is The Comic - today, celluloid capers and organists letting their hair down
10.00
Ives Variations on 'America'
Virgil Fox (organ)
RCA ARL 10666 (LP)
10.08
Buxtehude Wacht! Euch zum Streit gefasset macht -
Act III, sc.i (excerpt)
Cornelia Samuelis (soprano),
Monika Mauch (soprano),
Wolf Mathias Friedrich (bass),
La Capella Ducale, Musica Fiata,
Roland Wilson (cornett/director)
SONY CLASSICAL 82876782652 (2 CDs)
10.20
Liszt Hungarian Rhapsody No.2 in c# minor
Vladimir Horowitz (piano)
RCA GD 60523
10.30
Arnold Music for the film The Belles of St. Trinian's - Prelude
orchestra, Muir Mathieson (conductor)
EL ACMEM95CD
. followed by .
Carl Stalling / Milt Franklyn Score for cartoon Zoom and Bored
orchestra, unknown (conductor)
WARNER 9 45430-2
. followed by .
Shostakovich Music for the cartoon
The Tale of the Priest and his Servant Balda Op.36 - Suite
USSR Ministry of Culture Orchestra,
Gennady Rozhdestvensky (conductor)
BMG-MELODIYA 74321 59058 2 (2 CDs)
10.48
Shostakovich Preludes and Fugues Op.87 Nos.7, 8 & 9
Colin Stone (piano)
BIG EARS 005 (2 CDs)
11.04
Bach Mer hahn en neue Oberkeet BWV 212 (Peasant Cantata)
Adele Stolte (soprano), Klaus Adam (bass)
Leipzig Gewandhaus Orchestra,
Kurt Thomas (conductor)
ARCHIV SAPM 198 161 (LP)
11.35
P.D.Q. Bach 1712 Overture
Greater Hoople Area Off-Season Philharmonic,
Professor Peter Schickele (conductor)
TELARC CD-80210.