Main content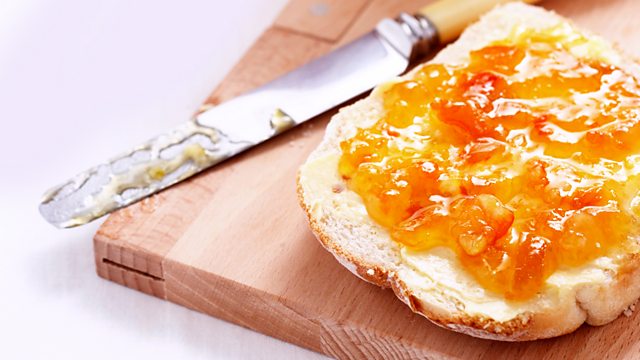 Marmalade
Simon Parkes discusses marmalade.
Marmalade is a uniquely British food, spread thick on the morning toast. But marmalade has been a declining market for many years, eaten primarily by the over-45s, and suffering under the relentless expansion of cereals, and sweeter spreads. Simon Parkes explores moves to restore toast's most noble partner to its rightful place at the breakfast table, from the domestic to the industrial.
The annual Marmalade Festival at Dalemain House in Cumbria was founded by Jane Hassel McCosh to celebrate domestic and artisan marmalade production. Judy Merry meets participants and judges, including baker Dan Lepard. Some of the winning marmalades are available at Fortnum and Mason in London, including Wild and Fruitful Lemon and Lavender.
Premier Foods is the largest marmalade manufacturer in the UK, accounting for 60 per cent of sales. They recently announced their new push to boost marmalade sales: a tie-up between Paddington Bear and a new squeezy marmalade for children, Robertson's Golden Smooth Sweet Orange Marmalade (available later in the year). Simon Parkes visits their Cambridge site to talk to general manager for spreads David Atkinson and technical manager David Smith. Robin MacArthur from market researchers IRI discusses the latest marmalade sales figures.
In the studio Simon is joined by food historian Ivan Day to discuss the history of marmalade, Clare Simpson, senior consultant with the branding agency Dragon Rouge, to assess its image problem, and food columnist and Tom Parker Bowles, author of Full English: A Journey Through the British and their Food.
They taste Robertson's Golden Smooth, Robertson's Golden Shred, Frank Cooper's Oxford Original Thick Cut, Wild & Fruitful Lemon and Lavender.
Last on
Broadcasts