Main content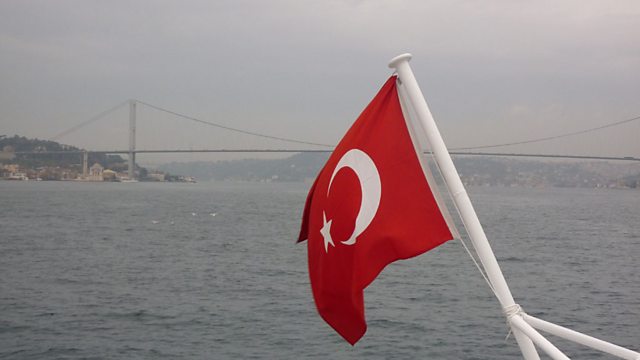 Aynur, Erkan Ogur, Kirike and Rembetiko
Moshe Morad visits Istanbul in search of traditional music. With sessions from Kurdish singer Aynur and multi-instrumentalist Erkan Ogur, plus a visit to the city of Izmir.
Istanbul is a European Capital of Culture for 2010 and Moshe Morad continues his search for traditional music in this melting-pot of peoples and cultures. Including a session recorded at Istanbul's most iconic music venue, Babylon, with one of Turkey's most important Kurdish voices, Aynur. Plus a session with the virtuosic multi-instrumentalist Erkan Ogur, and a visit to the Aegean city of Izmir, the birth-place of Rembetiko.
Moshe Morad explores Istanbul's rich musical mix and records sessions with many of Turkey's top musicians - from the country's most famous Kurdish voice (Aynur), and the sublime guitar playing of Erkan Ogur, to the wonderful sound of oud and kamanche with Yurdal Tokcan and Derya Turkan. Moshe learns about some of Turkey's best-loved traditional instruments such as the kamanche and the saz, hears the stories behind the music, and finds out from the people who live there what Istanbul means to them. Amongst them, he meets record executive Hasan Saltik, who set-up and runs the Kalan label, and who was sent to jail on more than one occasion for his love of minority musics. Moshe also travels the short distance to the Aegean coast where he records one type of music that has stayed in its original home rather than emigrate to Istanbul: Rembetiko.
Presented by Moshe Morad
Produced by James Parkin
Tel. 020 7765 4661
Fax. 020 7765 5052
e-mail world.routes@bbc.co.uk
More episodes
Next
You are at the last episode
Music and featured items
Add music you love and enjoy it with My Tracks
Babylon music club

Moshe talks to Ahmet about how the Babylon music club has changed Istanbul's music scene.

Duration: 09:31

Music Played

Aynur

Kurdish singer Aynur demonstrates her traditional instrument.

Duration: 09:51

Music Played

Censorship of ethnic music

Hasan Saltik talks about censorship of ethnic music in Turkey.

Duration: 07:20

Music Played

Erkan Ogur and the fretless guitar

Erkan Ogur demonstrates the fretless guitar he invented.

Duration: 09:18

Music Played

Musical diversity of Istanbul

Music executive Riza Okcu explains the history of musical diversity of Istanbul.

Duration: 03:35

Music Played

Kirike and Zebek music

Neo-folk group Kirike demonstrate their instruments and discuss the Zebek music tradition.

Duration: 06:03

Music Played

History of Izmir and Rembetiko

Moshe and members of Kirike talk about the history of Izmir and Rembetiko.

Duration: 06:25

Music Played

Derya Turjan and Yurdal Tokcan

Derya Turjan and Yurdal Tokcan perform music from the Ottoman tradition.

Duration: 06:32

Music Played

Featured in...

This collection features our choice of musical highlights from across the globe.