Main content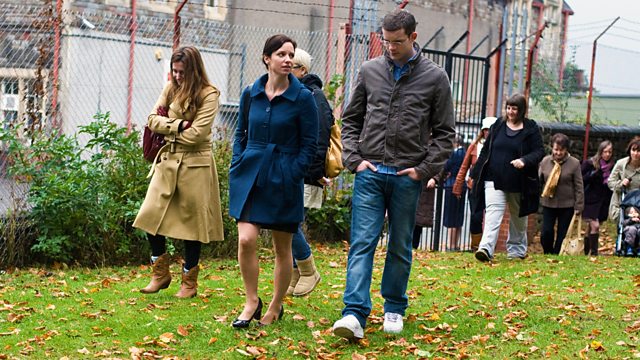 Comedy-drama series about a werewolf, a vampire and a ghost. Mitchell starts to think Lucy might change his life. Annie has a shock when she's left looking after a ghost baby.
Comedy-drama series about three twenty-something housemates trying to live normal lives, despite struggling with unusual afflictions - one is a werewolf, one is a vampire and the other is a ghost.
They face a human threat in the form of the mysterious Professor Jaggat and the cold-hearted Kemp. Jaggat and Kemp are fundamentalist Christians who have discovered the existence of vampires, werewolves and ghosts - and are determined to destroy them or carry out brutal experiments upon them.
They believe that vampires are the Devil incarnate and must be destroyed; that werewolves contain an evil gene that can be removed by violent scientific experiments; and that ghosts must be forced over to the other side whether they like it or not.
In 1969, Mitchell meets a woman who will change his life. Back in the present, he's starting to think Lucy might have the same effect. George's relationship with Sam continues apace and Annie has a shock when she's left looking after a ghost baby.
Clips

Music and featured items
Add music you love and enjoy it with My Tracks
Timings (where shown) are from the start of the programme in hours and minutes
Mitchell's Déjà Vu (CHOICE CHAPTER)

A look back to 1960s London: Mitchell has a near run-in with the police after a wild night. Back in the present day, Chief Constable Wilson wants Mitchell to put his predatory instincts to work.

Duration: 08:40

Annie the Babysitter

George puts his foot in it when meeting Sam's mother and daughter. Elsewhere, Annie's reputation in the ghost world means she is stuck looking after a stranger's baby.

Duration: 05:50

Mitchell: Then and Now

Back in 1960s London, Mitchell gives a little too much information to a hostage. In present day Bristol, Mitchell comforts a former addict and prepares for his date with Lucy.

Duration: 05:51

George's New Priorities

George thinks what could have been when he's left holding the baby, while back in 1960s London, Mitchell's hostage escapes, but not for long.

Duration: 05:07

The Girl Who 'Gets' Mitchell

Mitchell and George question each others' relationships; this leads Mitchell to look back to someone he was close to.

Duration: 05:30

The New Housemates?

Annie starts to form a bond with the baby, although that bond may soon be broken. George makes a big decision regarding the living arrangements, although not everyone is as keen as him.

Duration: 08:36

Mitchell's Kill

Mitchell is forced to examine his personality and conscious when Chief Constable Wilson puts pressure on him to carry out his dirty work.

Duration: 08:40

Lucy and Mitchell's Dinner (CHOICE CHAPTER)

Mitchell knows that he needs someone to live for if he is to curb his bloodlust.

Duration: 08:00

Credits

| Role | Contributor |
| --- | --- |
| Annie | Lenora Crichlow |
| George | Russell Tovey |
| Mitchell | Aidan Turner |
| Herrick | Jason Watkins |
| Kemp | Donald Sumpter |
| Lucy | Lyndsey Marshal |
| Chief Constable Wilson | Ian Puleston-Davies |
| Josie | Charlene McKenna |
| Douglas | John Paul Hurley |
| Sam | Lucy Gaskell |
| Campbell | Alex Warren |
| Kathleen | Sara Pascoe |
| Molly | Molly Jones |
| Policeman | Glyn Grimstead |
| Writer | Tony Bagsgallop |
| Producer | Matthew Bouch |
| Director | Kenny Glenaan |

Featured in...

Comedy-drama series about housemates who are actually a werewolf, a vampire and a ghost.

Supernatural housemates discover that being human is more difficult than they imagined.