Main content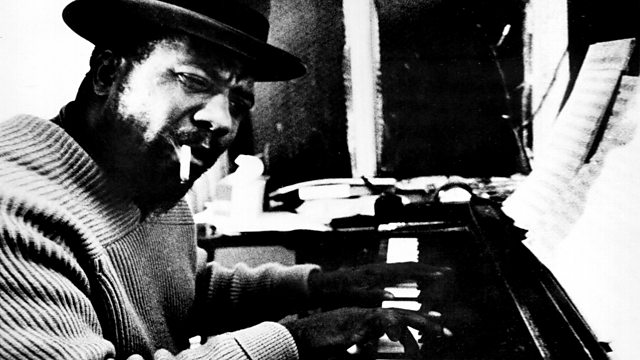 Donald Macleod and Geoffrey Smith focus on bebop's two most influential pianists: Bud Powell and Thelonius Monk. They became lifelong friends after meeting in the early 1940s.
Bebop! It's a rather silly word for a crucial chapter in jazz history. It didn't just come out of nowhere but evolved, fizzed and bubbled into existence in the USA in the early 1940s, as a result of a gloriously rich and complex musical chemistry involving different combinations of musicians, styles and places. All week, Donald Macleod and his special guest, the writer and broadcaster Geoffrey Smith, have some serious fun investigating this amazing musical phenomenon.
Thursday's programme homes in on the 88 keys of the piano, under the phenomenal fingers of Bebop's two most influential pianists: Bud Powell and Thelonius Monk. The classically-trained Powell had a ferociously virtuosic style of playing. His personality, though, was shy and introverted, and there was something almost helpless about him. He had a tendency to drink to excess, and a formidable knack for getting into trouble. In 1945 he was beaten senseless by the Philadelphia police, an attack whose savagery left him with mental problems that dogged him for the rest of his all-too-brief life; he died in 1966, a couple of months short of his 42nd birthday. Powell and Monk met at Minton's Playhouse in Harlem, where Monk was house pianist in the early '40s, and they remained firm friends. We hear Monk's tribute to Powell, 'In Walked Bud', and Powell's reading of a Monk composition, 'Off Minor'. We also hear their very different readings of 'Tea for Two' - Powell's a wildly inventive hectic dash, like something from the Mad Hatter's Tea Party, Monk's much more spacious and angular. And to finish: 'Wee' from a celebrated live concert recording in which Powell played with Charlie Parker, Dizzy Gillespie, Charles Mingus and Max Roach; and a Monk tune, 'Little Rootie Tootie', in a magnificent arrangement for big band.
Last on
Music Played
Thelonious Monk

'52nd Street Theme' [rec. 8 Aug 1949, NYC]

Performer: Bud Powell's Modernists Performer: Fats Navarro (tpt) Performer: Sonny Rollins (t sax) Performer: Bud Powell (pno) Performer: Tommy Potter (bas) Performer: Roy Haynes (drums)

Blue Note 7243 5 32136 2 6.
4.

Cootie Vinson and Eddie Williams

'Floogie Boo' [rec. 4 Jan 1944, NYC]

Performer: Cootie Williams Sextet: Performer: Cootie Williams (tpt) Performer: Eddie 'Cleanhead' Vinson (a sax) Performer: Eddie "Lockjaw" Davis (t sax), Performer: Bud Powell (pno) Performer: Norman Keenan (bas) Performer: Sylvester 'Vess' Payne (drums)

Proper Records Properbox 22.
2.

Coleman Hawkins - 'On the Bean' [rec. 19 Oct 1944]

Performer: Thelonious Monk (pno) Performer: Coleman Hawkins Quartet

Thelonious Monk

'Off Minor' [rec. 10 Jan 1947, NYC]

Performer: Bud Powell Trio: Performer: Bud Powell (pno) Performer: Curley Russell (bas) Performer: Max Roach (drums)

Proper Records Properbox 22.

Thelonious Monk

'In Walked Bud' [rec. 21 Nov 1947, NYC]

Performer: Thelonious Monk Quintet Performer: Thelonious Monk (pno) Performer: George Taitt (tpt) Performer: Sahib Shihab (a sax) Performer: Bob Paige (bas) Performer: Art Blakey (drums)

Blue Note CDP 7 81510 2.
17.

Thelonious Monk

'Evidence' [rec. 2 Jul 1948, NYC]

Performer: Thelonious Monk Quartet: Performer: Milt Jackson (vib) Performer: Thelonious Monk (pno) Performer: John Simmons (bas) Performer: Shadow Wilson (drums)

Blue Note 7243 8 30363 2 5.

Bud Powell

'Bouncing with Bud' [rec. 8 Aug 1949, NYC]

Performer: Bud Powell's Modernists: Performer: Fats Navarro (tpt) Performer: Sonny Rollins (t sax) Performer: Bud Powell (pno) Performer: Tommy Potter (bas) Performer: Roy Haynes (drums)

Blue Note 7243 5 32136 2 6.
1.

Vincent Youmans and Irving Caesar

'Tea for Two' [rec. 1 Jul 1950, NYC]

Performer: Bud Powell Trio: Performer: Bud Powell (pno) Performer: Ray Brown (bas) Performer: Buddy Rich (drums)

Vincent Youmans and Irving Caesar

'Tea for Two' [rec. 3 Apr 1956, Hackensack, NJ]

Performer: Thelonious Monk (pno) Performer: Oscar Pettiford (bas) Performer: Art Blakey (drums)

D Best

'Wee' [live concert rec. 15 May 1953, Massey Hall, Toronto]

Performer: 'The Quintet': Performer: Dizzy Gillespie (tpt) Performer: Charlie Parker (a sax) Performer: Bud Powell (pno) Performer: Charles Mingus (bas) Performer: Max Roach (drums)

Jazz Factory JFCD 22856.
12.

Thelonious Monk

'Little Rootie Tootie' [live concert rec. 28 Feb 1959, NYC Town Hall]

Performer: Donald Byrd (tpt) Performer: Eddie Bert (trb) Performer: Robert Northern (hrn) Performer: Phil Woods (a sax) Performer: Charlie Rouse (t sax) Performer: Pepper Adams (bar sax) Performer: Jay McAlister (tub) Performer: Sam Jones (bas) Performer: Art Taylor (drums)
Broadcasts