Main content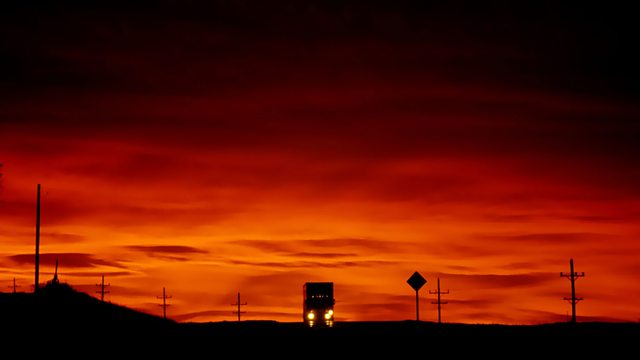 17/02/2010
Susan Sharpe presents music by Hesketh, Beethoven, Rachmaninov, Monteverdi, Brahms, Montsalvatge, Palestrina, Clara Schumann, Fesch, Telemann, Litolff, Handel, Schubert and Bach.
Presented by Susan Sharpe
01:01AM
Hesketh, Kenneth (b.1968)
Graven Image for Orchestra
Royal Liverpool Philharmonic Orchestra, Vasily Petrenko (conductor)
01:16AM
Beethoven, Ludwig van (1770-1827)
Concerto for piano and orchestra no. 4 (Op. 58) in G major
Paul Lewis (piano), Royal Liverpool Philharmonic Orchestra, Vasily Petrenko (conductor)
01:49AM
Rachmaninov, Sergey (1873-1943)
3 Symphonic dances for orchestra (Op.45)
Royal Liverpool Philharmonic Orchestra, Vasily Petrenko (conductor)
02:25AM
Monteverdi, Claudio (1567-1643)
Amor che deggio far? (from libro VII de madrigali - Venice 1619)
Concerto Italiano; Rinaldo Alessandrini (harpsichord & director)
02:30AM
Brahms, Johannes (1833-1897)
String Quintet No.2 in G major (Op.111)
Members of Wiener Streichsextett
03:01AM
Schubert, Franz (1797-1828)
Variations for violin and piano in E minor (D.802) [Op.posth.160]
Gidon Kremer (violin); Oleg Meisenberg (piano)
03:21AM
Montsalvatge, Xavier (1912-2002)
Concierto Breve
Angela Cheng (piano), Calgary Philharmonic Orchestra, Hans Graf (conductor)
03:44AM
Palestrina, Giovanni Pierluigi da (c.1525-1594)
Missa sine nomine
Silvia Piccollo (soprano), Annemieke Cantor (alto), Marco Beasley (tenor), Daniele Carnovich (bass), Diego Fasolis (conductor)
04:00AM
Schumann, Clara (1819-1896)
Variations on a theme of Robert Schumann for piano (Op.20) in F sharp minor
Angela Cheng (piano)
04:09AM
Fesch, Willem de (1687-c.1757)
Concerto for 2 flutes and orchestra in G minor (Op.5 No.2)
Musica ad Rhenum
04:19AM
Mozart, Wolfgang Amadeus (1756-1791)
Divertimento in D major (KV 136)
Slovak Chamber Orchestra, Bohdan Warchal (director)
04:31AM
Morawetz, Oskar (1917-2007)
Clarinet sonata
Joaquín Valdepeñas (clarinet), Patricia Parr (piano)
04:41AM
Telemann, Georg Philipp (1681-1767)
Trio No.4 from Essercizii Musici, for Transverse Flute, Harpsichord obligato and continuo
Camerata Köln
04:51AM
Litolff, Henry [Charles] (1818-1891)
Scherzo - from the Concerto Symphonique No.4 (Op.102)
Arthur Ozolins (piano), Toronto Symphony, Mario Bernardi (conductor)
05:01AM
Bellini, Vincenzo (1801-1835), arr. unknown
Concerto in E flat for oboe (arranged for trumpet)
Geoffrey Payne (trumpet), Melbourne Symphony Orchestra, Michael Halasz (conductor)
05:09AM
Moniuszko, Stanislaw (1819-1872) arr.Stanislaw Wiechowicz & Piotr Mazynski
4 Choral Songs
Polish Radio Choir; Marek Kluza (director)
05:17AM
Bach, Johann Sebastian (1685-1750), arr. Busoni, Ferruccio (1866-1924)
Toccata and Fugue in D Minor (BWV.565)
Valerie Tryon (piano)
05:26AM
Enescu, George (1881-1955)
Concert Piece for viola and piano [1906]
Tabea Zimmermann (viola, Germany), Monique Savary (piano)
05:36AM
Ravel, Maurice (1875-1937)
Chansons Madécasses for voice, flute, cello and piano
Catherine Robbin (mezzo-soprano); Nora Shulman (flute); Thomas Wiebe (cello); André Laplante (piano)
05:49AM
Handel, Georg Frideric (1685-1759)
Concerto (Op.4'6) in B flat major vers. for harp and orchestra
Nicanor Zabaleta (harp), Zagreb Philharmonic, Gennadi Rozhdestvensky (conductor)
06:03AM
Schubert, Franz (1797-1828)
Piano Quintet in A major 'The Trout' (Op.114 (D.667)
John Harding (violin), Ferdinand Erblich (viola), Stefan Metz (cello), Henk Guldemond (double bass), Menahem Pressler (piano)
06:38AM
Bach, Johann Sebastian (1685-1750)
Jesu, meine Freude - motet (BWV.227)
Orchestra and Choir of Latvian Radio, Aivars Kalejas (organ), Sigvards Klava (conductor).