Main content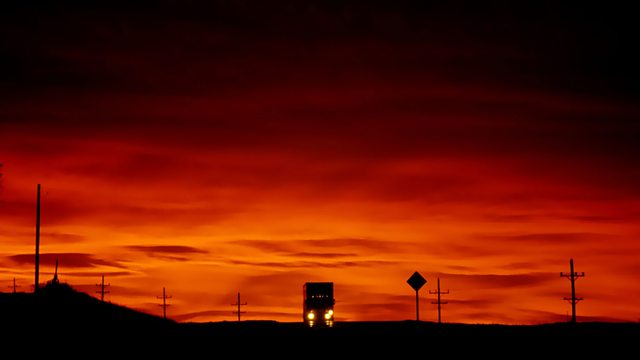 16/02/2010
Susan Sharpe presents music by Schnittke, Ravel, Glinka, Rimsky-Korsakov, Spohr, Serocki, Handel, Obrecht, Mozart, Mendelssohn, Locatelli, Brahms, Bakfark, Ferrabosco, Bach, Dvorak.
Presented by Susan Sharpe
01:01AM
Schnittke, Alfred (1934-1998)
Suite in the old style, version for cello and piano (1972)
Valentin Radutiu (cello) (New Juventus Prizewinner), Muhiddin Dürrüoğlu-Demiriz (piano)
01:15AM
Ravel, Maurice (1875-1937)
Introduction and Allegro For Harp, Flute, Clarinet and String Quartet (1907)
Jana Bou?ková (harp), Alexandra Grot (flute), Johnny Teyssier (clarinet), Goran Gribajcevic (violin), Jana Vonásková-Nováková (violin), David Gaillard (viola), Valentin Radutiu (cello)
01:27AM
Glinka, Mikhail (1804-1857)
Grand Sextet in E flat Major (1832)
Ferenc Vizi (piano), Goran Gribajcevic (violin), Jana Vonásková-Nováková (violin), Anna Kreetta Turunen-Gribajcevic (viola), Valentin Radutiu (cello), Dimitar Ivanov (double bass)
01:54AM
Rimsky-Korsakov, Nikolai (1844-1908)
[The tale of] Tsar Saltan - suite (Op.57)
Queensland Symphony Orchestra, Vladimir Verbitsky (conductor)
02:17AM
Tormis, Veljo (b. 1930)
Jaanilaulud (St. John's Day Songs) (1967)
BBC Singers, Stephen Cleobury (conductor)
02:34AM
Spohr, Louis (1784-1859)
String sextet in C major, Op.140
Wiener Streichsextet
03:01AM
Beethoven, Ludwig van (1770-1827)
Overture from 'Die Geschopfe des Prometheus' Op.43
Bergen Philharmonic Orchestra, Philippe Entremont (Conductor)
03:07AM
Korngold, Erich Wolfgang (1897-1957)
Aria: 'Mein Sehnen, mein Wähnen' (from 'Die tote Stadt', Act 2)
Brett Polegato (baritone), Canadian Opera Company Orchestra, Richard Bradshaw (conductor)
03:12AM
Serocki, Kazimierz (1922-1981)
Romantic Concerto for piano and orchestra
Adam Wodnicki (piano), Polish Radio National Symphony Orchestra in Katowice, Tadeusz Wojciechowski (conductor)
03:37AM
Telemann, Georg Philipp (1681-1767)
Trio No.8 from Essercizii Musici
Camerata Köln
03:45AM
Handel, Georg Friedrich (1685-1759)
Incidental music to 'The Alchemist', a play by Ben Johnson
CBC Vancouver Orchestra, Monica Huggett (conductor)
04:02AM
Obrecht, Jacob (1450-1505)
Fuga
04:05AM
J'ai pris amours a ma devise
Amsterdam Loeki Stardust Quartet
04:11AM
Mozart, Wolfgang Amadeus (1756-1791)
Mass (K.257) in C major "Credo"
Elizabeth Poole (soprano), Sian Menna (mezzo soprano), Christopher Bowen (tenor), Stuart MacIntyre (baritone), BBC Singers, BBC Concert Orchestra, Stephen Cleobury (conductor)
04:37AM
Mendelssohn, Felix (1809-1847)
Overture to 'St Paul', Op 36
Rietze Smits (organ) [Grote kerk, Zaltbommel, organ built by Andries Wolfferts 1786]
04:46AM
Fauré, Gabriel (1845-1924)
Elegie for cello and orchestra (Op.24)
Shauna Rolston (cello), Edmonton Symphony Orchestra, Uri Mayer (conductor)
04:53AM
Debussy, Claude (1862-1918), arr. Nancy Allen
Arabesque No.2
Mojca Zlobko (harp)
04:57AM
Debussy, Claude (1862-1918)
La fille aux cheveux de lin
Moshe Hammer (violin solo), Valerie Tryon (piano)
05:01AM
Rennes, Catharina van (1858-1940)
Zwaluwenvlucht & Herfststemming - from song cycle Zwaluwenvlucht (Op.59 Nos.1+3) Irene Maessen (soprano), Christa Pfeiler (mezzo-soprano), Franz van Ruth (piano)
05:04AM
Handel, Georg Frideric (1685-1759) ed. Dart
Sonata (HWV.357) in B flat major ed. Dart for oboe and continuo
Louise Pellerin (oboe), Dom André Laberge (organ - 1999 Karl Wilhelm at the abbey church Saint-Benoît-du-Lac, Québec, Canada)
05:10AM
Locatelli, Pietro Antonio (1695-1764)
Violin Concerto in E flat (Op.7 No.6) "Il Pianto d'Arianna"
Europa Galante, Fabio Biondi (violin/director)
05:24AM
Mohrheim, Friedrich Christian (1718-1780)
Trio No.IV in A major
Wolfgang Baumgratz (organ: made by Hillebrand in the Maria Basilica, Gdansk)
05:27AM
Brahms, Johannes (1833-1897)
Piano Trio in B major (Op.8)
Trio Ondine
05:59AM
Gabrieli, Giovanni (1554/57-1612)
Sonata for three violins and basso continuo
Tragicomedia
06:03AM
Anonymous (16th century)
Puse mis amores
Montserrat Figueras (soprano), Maite Arruabarrena (mezzo-soprano), Laurence Bonnal (contralto), Hespèrion XX, Jordi Savall (director)
06:07AM
Anonymous (16th century)
Aquella voz de Cristo
Luiz Alves da Silva (countertenor), Paolo Costa (countertenor), Lambert Climent (tenor), Jordi Ricart (baritone), Hespèrion XX, Jordi Savall (director)
06:12AM
Bakfark, Bálint (c.1526-1576)
Lute Fantasy No.1
Dániel Benkö (lute)
06:15AM
Ferrabosco, Alfonso (c1578-1628)
Pavan and Fantasie
Nigel North (lute)
06:23AM
Bach, Johann Sebastian (1685-1750), orch. Schoenberg, Arnold (1874-1951)
Prelude and Fugue in E flat (BWV.552), [St Anne]
Sydney Symphony Orchestra, Edo de Waart (conductor)
06:40AM
Dvořák, Antonín (1841-1904)
Romance (Op.11) in F minor vers. for violin and piano
Mincho Minchev (violin), Violinia Stoyanova (piano).